Acer Easystore H340 2TB Nas box
For the heavyweight home user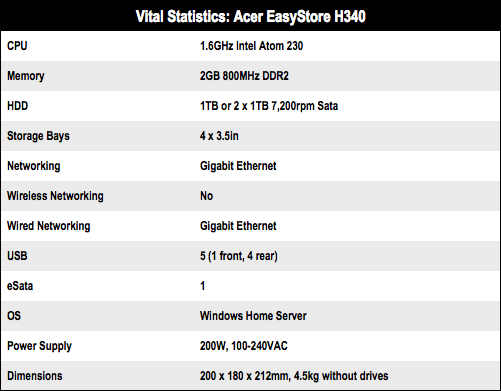 Whilst there are many NAS boxes of similar performance to the H340, the comparison charts see up against other multi-drive NAS boxes reviewed by Reg Hardware recently. Here we see that the H340 easily out-paces Buffalo's LinkStation Duo in all operations and compares favourably with the Asus TS-Mini (also a WHS device) in write operations, but ultimately falls behind it in read operations. This may be somewhat related to the fact that the H340 is running two HDDs whilst the TS-Mini has two bays; it only had one HDD installed. This, coupled with the lack of RAID support in Windows Home Server, is likely to reduce the H340's read ability.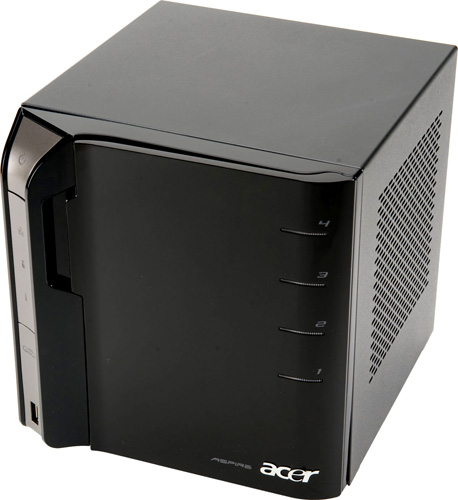 Solidly built, but aimed more at home users rather than power users
Although it's not the fastest multi-drive NAS, there is certainly sufficient bandwidth to comfortably stream 1080p content and perform any other typical I/O task with relative ease. Certainly, Acer has set the bar high for expandability with a multitude of additional ports and an incredibly intuitive drive removal system, which allows even a novice user to expand their storage ability in a matter of minutes. As for power consumption, there's room for improvement but it's not that much above others of this ilk clocking up 40W at idle and 44.9W under load.
Verdict
So if you need a NAS solution which is built to withstand a tactical nuclear strike, holds four disks, has six expansion ports and interacts well with most popular devices, then keep your attention focused on Acer's Easystore H340. However, the lack of RAID support will certainly put some folk off right from the start and you'll have to be prepared to do battle with the McAfee nagware too. That said, if you are an average home user and impartial to these things but still want to store more holiday snaps than you could ever take, then Acer H340 is designed to appeal to you. ®
More Nas Box Reviews…

Asus
Home Server
TS Mini
Freecom
Network
Media Centre
Netgear
ReadyNas
NVX
Iocell
NetDisk
Sponsored: Minds Mastering Machines - Call for papers now open

Acer Easystore H340 2TB Nas box
Solidly built Nas box with the home media enthusiast in mind.
Price:
£350 (1TB) £400 (2TB) RRP