I had no issues with call quality during the test period, and the HD mini shares the Android toting HTC Desire and Legend's ability lower ringer volume automatically when you pick the handset up and mute the ringer when you flip the phone over face down.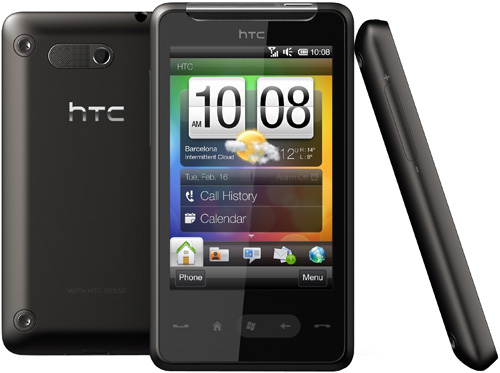 Nicely responsive due in no small part to HTC's Sense UI
With just a 1200mAh battery you obviously can't expect days on end without a recharge. On one test day I went from four bars to three in three hours of fairly light use with Wi-Fi connected, yet throughout the test period I had to boost the battery daily.
Verdict
The HTC HD mini is a nice little handset. The touchscreen is responsive, the camera impressive and thankfully, Windows Mobile is, for the most part, hidden behind the Sense UI. However, with Windows Phone 7 just around the corner, the HD mini might find itself a victim of those wanting to wait for the new OS. That and a lack of ability to customise the home screens, as you can with Android, could be its downfall. ®
More Phone Reviews…

Sony Ericsson
Xperia X10
HTC
Desire
Samsung
Omnia Pro
NokiA
X6

HTC HD mini
A small format smartphone with a decent array of features.
COMMENTS
HTC
Nice size but Windows? Make a small Android phone and you'll have my hard-won!
So many clicks to get in to contacts?
On all (3) of my HTC devices since WM2003, it's just been 1 click.
Press the "dial" button and the dialler comes up with all your contacts. You can find a specific contact by using the T9 pad to type their name, then click the "contact card" option beside it.
If you want to add a new contact, I agree, it's far too many clicks. 1 or 2. One to click the "contacts" tab, and if your contact isn't in your favourite list, another to click "all contacts".
I think that you may want to actually use a WinMo device before insulting it.
With that said, I'm just about to try Android for a change, but I've got nothing against WinMo or S60.
Thanks
For the nice review. Useful. I may consider this as my upgrade is due.
If you could place my comment in between the inevitable iPhone troll and the other inevitable Android troll, that would aid in the irony.
The WinMo oracle is in
And you can find all your answers at
http://xda-developers.com/
Dr Gates: Or how I Learned to Stop Worrying and Love WinMo
Once you stop downloading untested applications and trying to get WinMo run them (crap in crap out remember) Windows Mobile is actually very nice to use.
Synching with Windows 7 is superb