US Army portaloo-full-of-missiles project for the chop
Who wants to be colonel of a load of boxes?
A US military weapons programme which might have made large parts of the Army obsolete has been cancelled. Officials said that the Netfires/Non Line Of Sight Launch System (NLOS-LS, aka "rockets in a box") suffered from test failures and escalating costs.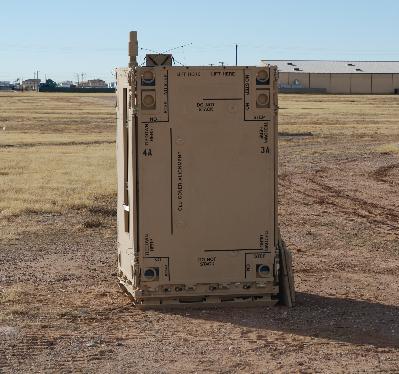 The Portaloo of death: Dead
The Army Times reports that Pentagon officials have decided to request cancellation of the delayed missile system following disappointing test results earlier this year and reassessment of the whole range of US land-based precision weapons. The final decision will be made by military procurement chief Ashton Carter.
The NLOS-LS was very different from other methods the US Army might use to blow something up relatively surgically at a distance, such as the use of smart artillery shells or rockets. Rather than a large ground unit with hundreds of soldiers operating heavy mobile howitzer or rocket-launcher vehicles, an NLOS-LS system is a smallish automated box about the size of a large Portaloo.
With its own power and connection to the military network, the NLOS box would require no crew or support in operation. It could be parachuted, Humvee'd or helicoptered into position and sit unattended waiting for orders.
When a command node on the net told it to, the box would launch a small pocket cruise missile at any coordinates within 30 miles. The missile's track could be reprogrammed in flight if required, and on arrival at the target zone it would home in on a laser pointing dot - or its target's infrared heat emissions - for a precision strike, sending back imagery so as to confirm what it had hit.
This sort of capability, if cheap enough, would naturally tend to mean much less need for ordinary manpower-intensive artillery units and perhaps other large Army communities such as attack helicopters. With any soldier in possession of a laser pointer and a network radio able to knock out tanks by the dozen, requiring no more backup to do so than a Hummer-load of gear twenty miles away, you might not bother quite so much with tanks either. Western military formations, many of whose soldiers today are leg-shackled to heavy hardware, might be able to put more boots out on the ground and get more done.
However, the development of the NLOS-LS has been delayed and one test earlier this year saw only two of 14 missiles fired hit their targets. Reportedly the problems were with the infrared seeker mode: the missile has carried out successful trials when given a laser dot to home in on, which would presumably be the normal mode of operation in real-world operations. (The laser pointing would usually be provided by a soldier, vehicle or aircraft with a view of the target: shots taken at a venture against unseen locations in heatseeking mode seem unlikely under modern rules of engagement.)
"This thing just costs too much," an Army source source told DoD Buzz.
It was understood that the problems could be fixed, but that the US Army is unwilling to spend any more money on development. Costs of the NLOS-LS are now projected at just under $200k per missile if the planned purchase went ahead. "Excalibur" smart artillery shells which can be fired by a normal 155mm Paladin mobile armoured howitzer have cost as much as $125k each in recent production contracts, though this is supposed to drop to $50k over time.
The NLOS-LS was also slated to be the primary surface-to-surface weapon for the US Navy's new inshore-warfare Littoral Combat Ships: the probable death of the project may cause further problems for the troubled mini-warships, which will now have nothing but a 57mm cannon with which to tackle enemy vessels or targets ashore.
The demise of NLOS-LS may not mean the end for the idea of cheap, automated fire support, however. Israeli firm IMI has lately said its similar "Jumper" system is all ready to go. ®
Sponsored: Minds Mastering Machines - Call for papers now open