Missing Soviet nuclear electrocar FOUND ON MOON
Probe-sat locates vanished pinnacle of 1970s USSR tech
'It's got a lot to say after forty years of silence'
Now and again over the years Murphy and his fellow boffins would fire a blast of laser illumination at a likely area on the Moon and look out for a reflection in their powerful telescopes, but it turned out that the best guess as to the rover's final resting place was wildly out.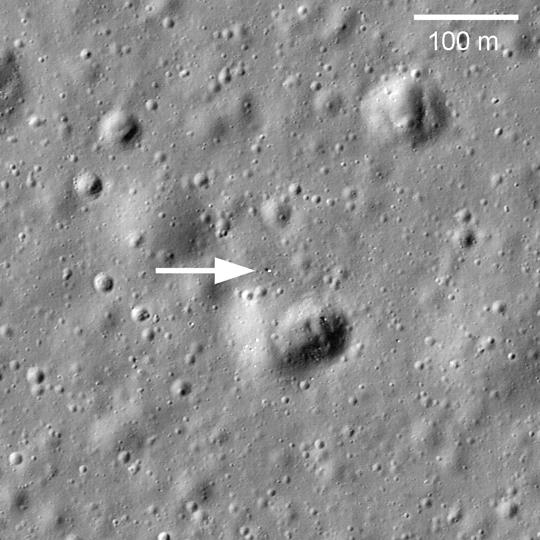 Old car lying about in the front garden in a less classy neighbourhood of the Mare Imbrium.
"It turns out we were searching around a position miles from the rover," said Murphy. "We could only search one football-field-sized region at a time."
Salvation came last month, when NASA released a tranche of detailed orbital photos of the Mare Imbrium, taken by its new Lunar Reconnaissance Orbiter (LRO) satellite as it made repeated passes just 30 miles above the surface. With these, it was possible to finally get a decent idea where the lost Lunokhod and its parent lander were.
"The recent images and laser altimetry from LRO provided coordinates within 100 meters, and then we were in business," says Murphy.
Using the 3.5m telescope at Apache Point in New Mexico, Murphy and his colleagues were able at last to get a laser reflection back from the missing moon-prowler, getting its range to within a centimetre. A second reading less than 30 minutes later gave another line of position and pinned the machine down to within 10 metres. In time, Murphy believes he can refine this down to within a centimetre.
"We got about 2,000 photons from Lunokhod 1 on our first try," exults Murphy. "It's got a lot to say after almost 40 years of silence."
Lunokhod 1's successor, Lunokhod 2 - nowadays the property of wealthy game developer and space tourist Richard Garriott - was also recently relocated with the aid of LRO photographs. Its reflector, unlike Lunokhod 1's, would provide a weak laser return, but because of the uneven way in which known laser reflectors are positioned on the Moon it couldn't be pinpointed on a map with any accuracy until LRO came on the scene. ®
Sponsored: Minds Mastering Machines - Call for papers now open