EVA to become P6000 in HP's Converged Infrastructure
Hoping to keep existing customers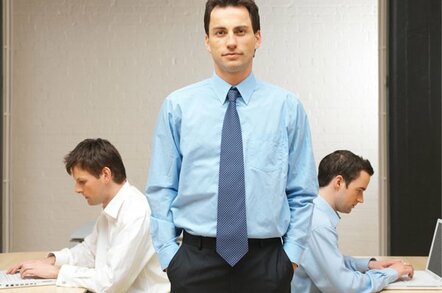 HP's Enterprise Virtual Array (EVA) will be rebranded as the P6000 and be a main player in HP's Converged Infrastructure (CI).
Converged Infrastructure is a set of integrated stacks of server, storage and networking with a common management layer, orderable as single SKUs (Stock Keeping Units). An updated server element was launched for this today.
Within Converged Infrastructure there will be set of storage elements consisting of a standard 3U mount unit holding the drives, basic controller pair and network ports. This feeds data to storage processing blades which run storage system management software. In effect they are bladed servers running what used to be called storage array controller software, such as that currently running in P4000 (LeftHand) iSCSI block storage arrays and X9000 (Ibrix) scale-out file storage arrays.
The block-focused mid-range EVA arrays will also have their XCS controller software ported to Converged Infrastructure's storage processor blades so that the 3U mount unit can be given an EVA personality. In line with HP's developing unified storage branding the EVA will become the P6000, joining the P2000 (ex-MSA), P4000 and X9000 in HP's storage brand line-up. The XP, not forming part of Converged Infrastructure, remains separate from this.
There will be various P6000 products, given names like P6200 and P6400, not that these are real numbers that denote particular capacity and performance levels, unless we struck lucky.
It is our understanding that there will not be a single logical pool of physical storage from which P4000, P6000, and X9000 partitions are carved. Instead individual storage mount units will be allocated totally to one of the storage personalities.
We gather too that thin provisioning, replication, snapshots, and deduplication are functions layered on top of the storage personalities. Unless there is a single virtual storage pool with its own management functions underlying the storage personalities and deduplication, replication etc form part of this management function, then it is very hard to see how there could be single software functions for these jobs used by all three storage personalities. HP hasn't said anything about this.
It is possible that deduplication and disk-2-disk backup will be a fourth storage personality inside the storage element of Converged Infrastructure. HP isn't saying. Other storage personalities may be added over time. For example, a unified file-and-block storage personality. This could involve natively unified storage, such as is found in the Pillar Axiom or Netapp, or a NAS head, such as Compellent's zNAS announced today.
HP's Storage Essentials will not be a direct part of the storage aspect of Converged Infrastructure. As far as the EVA is concerned Storage Essentials currently talks to Command View to get EVA information. In Converged Infrastructure it will get information (capacity data etc) from the low-level storage hardware (3U Mount units), and from the storage management SW (XCS, thin provisioning etc) executing in the storage processor blades. So it will talk to Command View in the Converged Infrastructure storage structure and use information from it and the low-level Converged Infrastructure storage hardware to populate the UCMDB (Universal Configuration Management Database) with data which can be used by customers and system applications.
Converged Infrastructure is becoming one of the most, if not the most, integrated IT stacks in the industry. HP hopes this message will resonate strongly with its customers. With this inclusion of a rebranded EVA in Converged Infrastructure HP is providing a migration path for EVA customers, which it must obviously do if it is to prevent them being poached by EMC, Dell, HDS and other integrated stack players. ®
Sponsored: Minds Mastering Machines - Call for papers now open