Fat cat fanbois' obscene dream bling
The £1.93m iPhone
One of the criticisms traditionally aimed at Apple has been that its products are overpriced compared to comparably equipped hardware. The assumption is that fanbois are willing to pay a premium for style over substance.
Well, how about £1.93m ($2.97m) for an iPhone?
That's the asking price for the Iphone [sic] 3GS Supreme Rose by Stuart Hughes, located in "the vibrant city of Liverpool, England, a place famous for all aspects of creativity and innovation including the Arts, Music, and of course Football".
The Supreme Rose is an unlocked, street-legal 32GB model with a platinum bezel that's encrusted with 130 "flawless" diamonds totaling 97.5ct, set off by four "pink baguette" diamonds each weighing in at 2.5ct apiece. The body of the phabulous phone is made of 18ct rose gold with the Apple logo adorned by 53 more diamonds. In the Home button nestles a 7.1ct rock.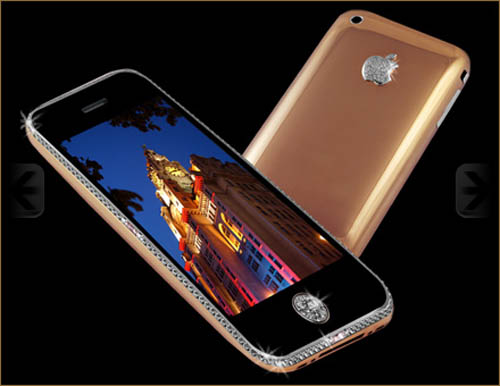 The perfect phone upon which to launch "I Am Rich"
And should you think that £1.93m might be a wee dear for a phone, do know that the luxury-conscious Liverpudlians toss in a "luxurious hand finished wallet made from real Ostrich foot" - yes, foot - that not only will cradle your Supreme Rose, but also hold four credit cards. We're thinking that at least one must be an American Express Centurion Card.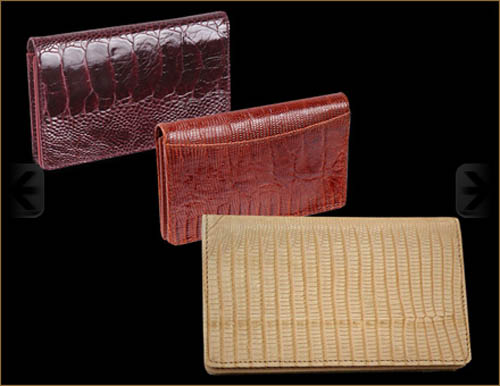 Mmmm, ostrich foot, so buttery-smooth
Should the Supreme Rose be a bit beyond your budget - or if you need a more serious business partner to take along on your international gun-running junkets - you can step down to the Macbook [sic] Air Supreme Fire Edition.
For a mere £219,995 ($339,000) you can flaunt a MacBook Air upgraded to a 24kt gold body - 2.6kg of gold encrusted with 53 diamonds totaling 25.5ct. Of course, a plain-vanilla MacBook Air weighs in at a mere 1.36kg - but fashion is supposed to hurt, don't you know, darling?
Should the Supreme Fire catch your fancy, do act today - Stuart Hughes is planning a limited edition of only 10.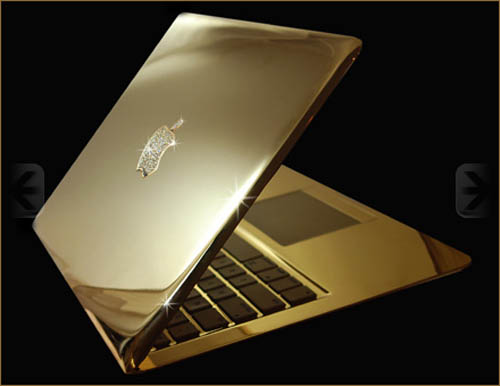 All that glitters, in this case, is indeed gold
Gold is so garish, though, don't you agree? For our money - a mere £139,995 ($215,000), such a bargain - we're jonesing for a Macbook [sic] Air Supreme Ice Edition. Same diamonds as the Supreme Fire, but the Ice's lid is 2.5kg of solid Platinum. The rest of the Supreme Ice's body is merely polished aluminium - but after all, let's not be too ostentatious, shall we?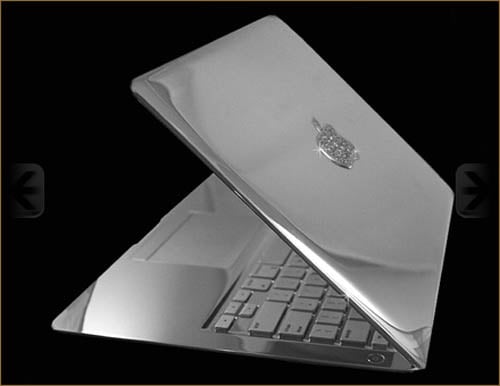 Fifty per cent platinum, fifty per cent aluminum, one hundred per cent fly
But maybe you feel that cutting-edge electronics are not your style. Perhaps you'd prefer to rock a bit of retro kit, yet still tell the world that you're a pretentious twat lover of all that's fine in life.
For you, Stuart Hughes has teamed up with Privé International ("The worlds [sic] leading bespoke luxury service company") to create the Privé Phone. For the exact same price as the Supreme Ice laptop, you can tell the world that you care not a toss for the trappings of the 21st century, and instead carry with you a 22ct, solid-gold, "completely refurbished retro brick phone" set with 73 diamonds totalling 23ct and "bristling with the latest technology WAP, Text SMS, COLOUR SCREEN".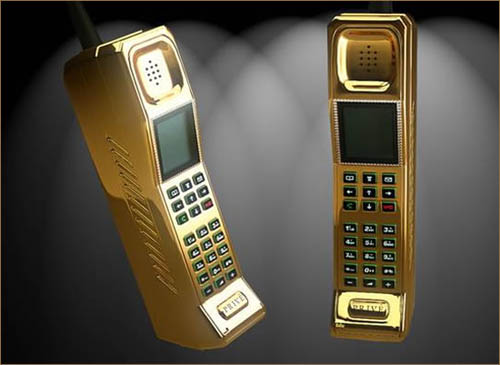 Oh, how Muffy will giggle when you pull this from inside your pants
The £139,995 that you'll pop for the Privé Phone includes not only a "Privé-Stuart Hughes Design Box made from granite," but also a one-year membership in Privé International, which entitles you "access to all of Privé 's luxury amenities, from private jet/yachts charters to vacation properties" - a $20,000 value.
As Uncle Morty might have exclaimed: "Such a deal!" ®
Sponsored: Minds Mastering Machines - Call for papers now open