I'm not entirely sold on the 100Hz motion interpolation technology - an attempt to make the source material's frame rate more closely match the display's refresh rate, in order to ensure smoother animation. It has the annoying habit of ridding the film-like look from TV material played back through either of the EX703's two Scart connectors. Freeview content viewed through the tuner was fine at 100Hz, but some pre-HD but post revamp episodes of Doctor Who looked like they were shot on videotape. Ditto recordings from my Freeview DVR.

More ports on the left side
It's clearly something to do with the way the Sony handles interlaced material, and you can turn it off. Thankfully, the TV stores separate picture settings - of which 100Hz is part - for each input, so you can disable it for Scart-fed content but leave it on for tuner-received programmes and whatever you have hooked up to the telly's four HDMI ports.
Other feeds include composite-video, component-video and VGA, but I suspect I'll make more use of the USB port into which you can add an optional Wi-Fi adaptor or a Flash drive of, say, Xvid-encoded .AVI files and watch them on the screen, .SRT subtitle files included if appropriate. Connect your camera and you can view JPEG photos you've taken.
Incidentally, the 10W-per-speaker sound isn't bad either. Sure it's not as beefy as the audio experience a big, boxy CRT TV might deliver, and certainly not hi-fi. It also exposes the degree to which different Freeview stations' sound levels vary, even between a single broadcaster's channels. But it's not weedy, either, and fine for all but the most audiophile viewers.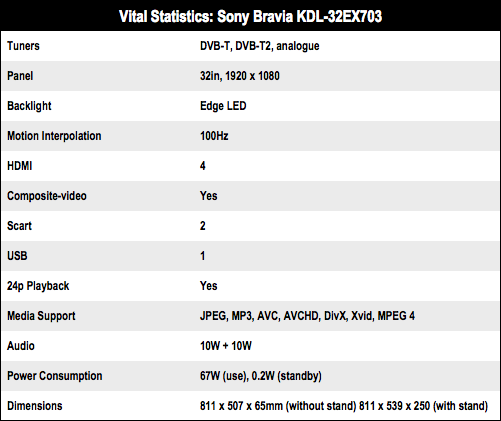 COMMENTS
Sony...
it's a sony. They'll most likely update it after you bought it to remove the feature you wanted anyway
DLNA support
See here:
http://support.sony-europe.com/tutorials/tvhc/dlna/dlna_comp.aspx?site=odw_en_GB&m=KDL-32EX703
Nothing new supported over DLNA from last season's 5500 models
Does it stream avi over ethernet?
There is EU legislation covering stand by power for electrical equipment, you need to look athe EuP Directive and the appropriate implementing measure for standby power, believe current legal requirement is 1W max, hence newer Sony TV's actually have an on/off switch.
One thing I am very interested in the playback of Divx or Xvid over the ethernet interface, I have a readnas NV+ and would like to know if I can stream these avi files directly from the NAS to the EX series TV. I have read the sony manuals and it would only appear to play these formats from the USB port not the ethernet. Can someone please confirm?
I would love this to work so I can lose some boxes out of my AV system
Standby power doesn't stay that high for long
Standby power that high is only temporary while checking for updates to the channel list and for software updates in the broadcast. It will then return to its advertised amounts. There is EU regulation which this passes.
Also you pick the most expensive 32" model that Sony sell and then complain it is expensive.
Similar features except LED backlight are available from the 32EX503 at about £700 in Argos. If you don't need the Motionflow 100Hz you can go down to the 32EX403 at about £550 in Argos.
15 watts on standby?!
What on earth does it do with FIFTEEN WATTS while standing by? My old 1980s Phillips TV stands by on just three watts (which I regard as three too many).
We really need some EU-wide legislation on standby power usage, to force manufacturers to get standby power usage down to milliwatt levels. Hint: disconnect the switch-mode PSU *completely* from the mains, and run standby functions off a rechargeable battery which recharges every time you turn the set on.