Viewsonic ViewBook 130 ultra-slim laptop
Wanted: killer feature
To be fair, the ViewBook felt quite smooth and responsive when running Windows 7 and handling routine tasks such as web browsing and Microsoft Office apps. It's fine for a spot of casual gaming too. It handled the 3D graphics in the online Quake Live with no difficulty, although the more demanding Far Cry 2 reduced it to a sluggish 7f/s, so serious gamers will need to look elsewhere.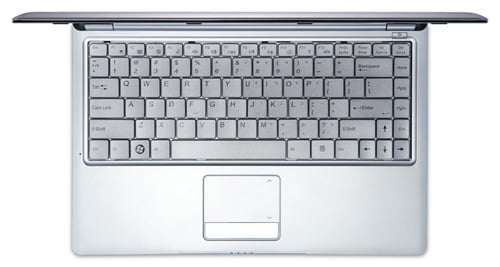 The keyboard is fine, but the touchpad is too small
Video performance was disappointing. I was able to connect the ViewBook to an HD TV using its HDMI port, and was pleased to see that it could output video at full 1920 x 1080 resolution. Playback of standard-definition video was no problem, but while it played some short 1080p video clips perfectly well it did struggle a little with full-length HD programmes that we downloaded from the BBC iPlayer.
Viewsonic claims that the ViewBook provides "the perfect combination of mobile computing and digital entertainment", but it needs a bit more raw horsepower to really deliver the goods on the entertainment side of things.
The other disappointment was the ViewBook's battery life. I'm getting used to seeing laptops that can run for several hours on battery power, but when looping PCMark Vantage continuously, the ViewBook couldn't even get to the two-hour mark - 113 minutes, to be precise. Admittedly, you'll get longer life for less demanding tasks such as word processing and web browsing, but there plenty of other laptops that provide significantly better battery life.
Verdict
But I don't want to sound too harsh. The ViewBook is actually quite a nice little laptop: it's light and easy to carry, and perfectly adequate for day-to-day tasks. Its main weakness is that it simply seems a bit over-priced when compared to other laptops that provide similar features and performance. Of course, you could say the same thing about the MacBook Air, but the MacBook can rely on Apple's drop-dead gorgeous design and full metal jacket to overwhelm your better instincts. The ViewBook has no such killer feature to recommend it. ®
More Slimline Notebook Reviews

Dell
Latitude
Z
Toshiba
Satellite
T130
Lenovo
ThinkPad
Edge
Acer
Aspire
1810TZ

Viewsonic ViewBook 130 ultra-slim laptop
Very skinny 13.3in laptop that delivers much that the MacBook Air fails to.