Viewsonic ViewBook 130 ultra-slim laptop
Wanted: killer feature
The LED display has a resolution of 1366 x 768, and provides a bright, sharp image. I'm not too bothered by the screen's reflective coating, but the glossy black bevel running around the edge of the screen really shows off every little fingerprint and smudge mark. I was also concerned about the two cooling vents located right on the base of the unit, but the ViewBook never became too hot to sit comfortably on a lap.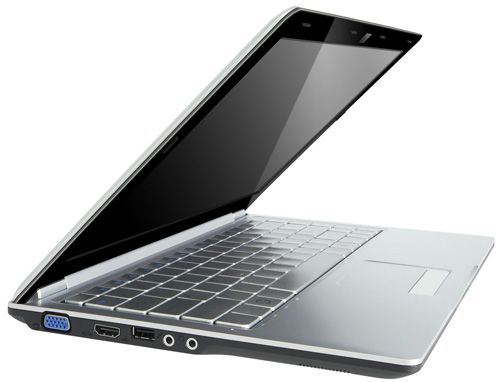 More ports than a MacBook Air
Prices for the ViewBook range start at around £428 for the ViewBook 120, which is equipped with a 1.2GHz single-core Intel Celeron M 743 processor and 12in screen, but we tested the ViewBook 130, which has a 13.3in screen and a 1.3GHz Core 2 Duo SU7300 processor, and costs £622 through Viewsonic's preferred retailer, Misco.
Other standard features in the ViewBook 130 include 2GB of memory, a 320GB hard disk, 802.11n Wi-Fi and an integrated Intel GMA 4500M graphics core. The review unit was equipped with Windows 7 Professional, but you'll also see it on sale with Windows 7 Home Premium.
Like the MacBook Air, the ViewBook 130 lacks an optical drive. Alternatively, there is a 'Pro' version of the ViewBook that includes an internal multi-format DVD burner and which costs about another £50. It's also slightly heavier, at about 1.6kg to the 130's 1.5kg.
The problem we had as we explored the ViewBook was that we couldn't quite figure out what it wants to be. The 13.3in screen and Core 2 Duo processor mean that it's more than a netbook, but the 1.3GHz clock speed is a mite feeble for a fully-fledged laptop PC – especially one that costs more than £600.