Canon EOS 550D DSLR
The semi-pros' second camera?
The video frame rates allow for some fun in the edit, with 50fps being recorded in 720p mode. This allows for super smooth slow motion (well, 50 per cent slower) as you can see from the trampoline footage. HD video capture is also available at resolutions of 1080p at 24 and 25fps (and 29.97 if set to NTSC mode).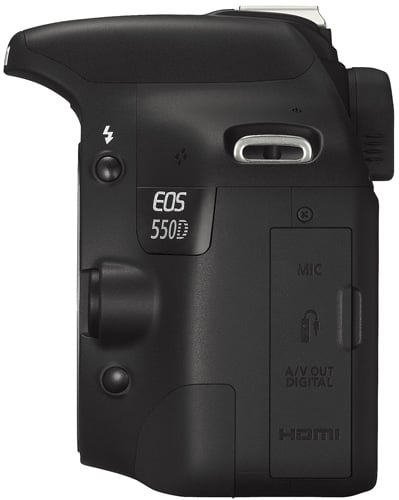 Stereo mic input, mini HDMI, remote and A/V output reside under the left side cover
Again, audio plays second fiddle to the imaging. Alas, it records the camera body's noises as well as the scene, so using an external mic is a good idea and there is a 3.5mm mic input for this purpose. Unfortunately, you cannot change the record level, so you are at the mercy of its Automatic Level control. This gain compensating function can cause levels to fluctuate wildly, even during short passages.
The 12min cut off for the HD footage is the maximum or 4GB – whichever comes first – in keeping with other the HD Capable offerings from Canon. It records to SD card, Type 6 is the minimum requirement here and £50 buys you 32GB, which could get you near an hour and a half of footage.
Battery life suffers if you're over-reliant on the rear screen, which can be tuned off. Nonetheless, there's sufficient power to see you through a whole day of shooting stills and occasional video. The LP-E8 battery type isn't shared with other current EOS models in the range, so here we go again, buying the backup one for an extra £45.
If you're likely to be shooting with other DSLRs, such as the 5D Mark II and 7D then the EOS 550D is an ideal B-cam. With its sensor crop factor it would do well to be used with telephoto lenses to gain that free extra magnification. Certainly, wide lenses would have to be very wide.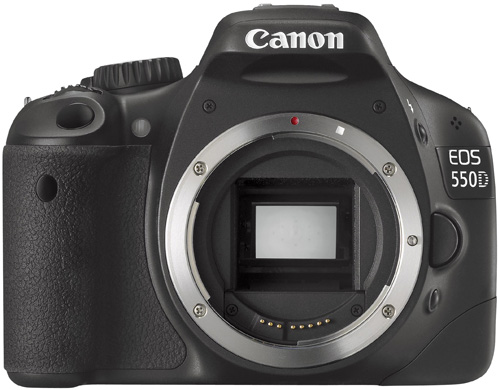 Cheap enough to trash?
And, at this price, I can see some 550Ds being sacrificed on the outside of cars, dropped from buildings and generally put through some tough work, knowing that it is cheap enough to write-off to get that shot.