Nazi soldiers pose for Red Army calendar
Vets see red over anniversary gaffe
Red Army vets of the Great Patriotic War were less than impressed when a calendar designed to celebrate the 65th anniversary of the Soviet Union's victory over Nazi Germany featured some of the latter's troops proudly posing for the camera.
The gaffe came to light when officials began to distribute posters to government buildings and schools in the Perm region of the Urals, ahead of the 9 May celebration. Teachers "noticed the distinctive Nazi helmets worn by soldiers in the pictures", the Times explains.
The paper elaborates: "Four of the six photographs featured Nazis, including one of a group of troops surrounding a captured Soviet tank and another of a soldier bearing an SS propaganda poster."
The Perm Book Publishing House, responsible for the outrage, had apparently grabbed the pics from the internet after dismissing photos provided by the Perm regional veterans' committee, which commissioned 1,500 examples of the commemorative calendar, as "not interesting enough".
Svetlana Somova, a senior manager at the publisher, admitted: "We are young and we didn't see the war. We don't know what fascist soldiers looked like."
The company did submit the calendar to the vets for approval, but "the elderly official who saw the poster was practically blind and had not noticed the mistakes", committee chairman Aleksander Sergeyev insisted.
He said: "He believed that they were using his material and that they were just sending it to him to check."
Sergeyev concluded: "This is simply blasphemy, especially on the eve of such a great victory day. We have advised all of our veterans' groups to collect every copy of this calendar so that they can be destroyed. Then we will order a new one to be printed."
This year's 9 May celebrations will feature a traditional Red Square miltary parade, but with American, British and French joining the ranks of their former allies for the first time, the Times notes. ®
Nazis versus Red Army: A quick guide
For the benefit of Svetlana Somova, here's some clarification gleaned from the ever-reliable interwebs: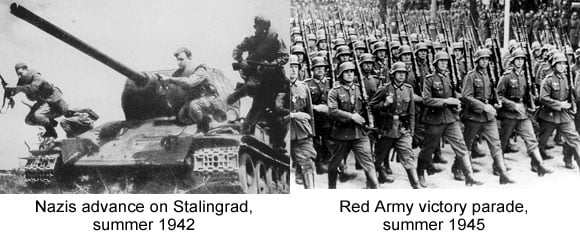 Sponsored: Minds Mastering Machines - Call for papers now open