Buzz goes orienteering on Google Maps
Meta Web2.0rhea handed compass
Google has slotted the mobile version of its privacy-lite Buzz feature into its Maps site in a move to make its creepy realtime Tweetbookish tech more popular.
The company announced the addition of a read-only Buzz layer in Google Maps yesterday. It's now available from the "More" button located in the top right-hand corner of the map interface.
We've added a few screen shots from Google Maps with Buzz switched on to give our readers an idea of how easy it is to follow stalk someone's location and latest meanderings via the site.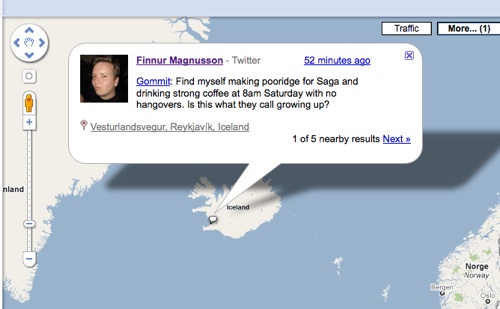 And not one mention of a certain volcano...
Mountain View is pushing Buzz via its Google Maps for Mobile offering in an effort to presumably encourage take up of the feature, however when we tested it out at Vulture Central, most of the, er, buzz appeared to be coming from Twitter.
And, based on a completely unscientific online hike across the globe, its worldwide usage is currently miniscule, 24 hours in.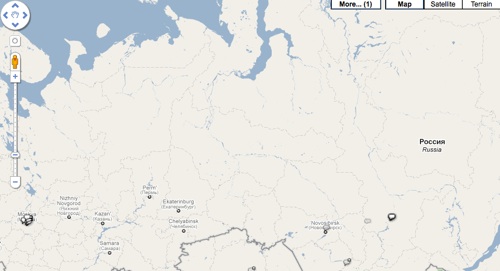 Not much Buzz in that there Russia
"Find an interesting area like your neighborhood and select any available icon to see what's going on there. In the post's window, click on the name to see the author's public profile, the timestamp to comment on the post, or the place to see it in Maps," said Google software wonks Ana Ulin and Evan Parker in a joint blog post.
The Chocolate Factory has approached this particular strategic Buzz play with an element of caution by making the feature read-only from the desktop, presumably while the company continues to lick its wounds over the privacy howler it made at launch of the product, which was bolted onto Gmail without Google consulting its users first.
However, while two-way communication isn't possible yet, it's fair to assume that Google will eventually ramp this up in its Maps site. And even if it doesn't, it's extremely easy to track any Buzz user gullible enough to leave their profile wide open for prying eyes. ®
Sponsored: Minds Mastering Machines - Call for papers now open