HP teases with smartbook spec
AirLife's Arm chippery confirmed
HP's first Android-based netbook, the Compaq AirLife 100, is now confirmed to use an Arm chip, the manufacturer's website reveals..
The AirLife 100, which was announced at the Mobile World Congress show two months ago, incorporates a 1GHz Qualcomm Snapdragon processor - the QSD8250 - plus 512MB of memory, 512MB of Flash Rom and 16GB of Flash storage.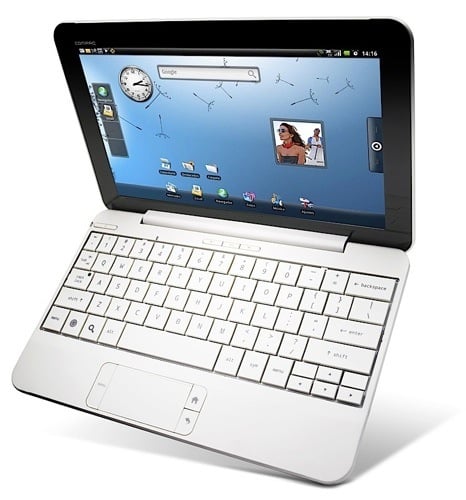 HP's Compaq AirLife 100: ARM 'n' Android
Like any good netbook, it has a 10.1in screen, though the resolution is limited to 1024 x 600.
The whole lot's powered from a 28Wh removable battery which HP previously said would deliver 12 hours' runtime or up to ten days' life in standby mode.
The extra detail absent from the initial announcement has now appeared on HP's website, which notes that the OS is the "Compaq touch experience powered by Android".
Alas, it makes no revelations regarding how much this device will cost, in the US or elsewhere, or when it will be available. ®
Via MyHPMini
COMMENTS
Nice...
As an owner of an eee701 I'm glad to see a netbook getting back to what netbooks should be: light, small, cheap devices.
How long before this vision gets corrupted again and we're seeing 14" screens, 250GB HDD and an ARM port of Windows7 on these?
Stupid consumers...
28wh??
Arn't battery usually measured in mAH? Does anyone know what 28wh is comparable to?
also...
28Wh / 12Hours = 2.3Watts power draw!?
Thats pretty impressive if that is the actual mean power draw, with screen on and wireless running.