Dell EqualLogic engineering boss leaves
'I'm taking a break'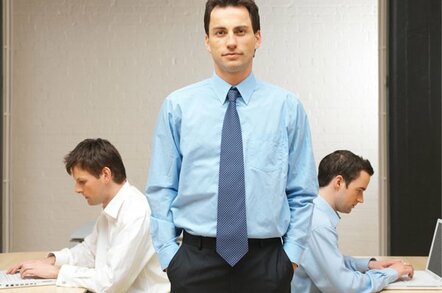 Comment Paula Long, the driving force of EqualLogic engineering, has left Dell.
She was VP of Storage for the Product Group focused on EqualLogic, and came to Dell with the EqualLogic acquisition. Its development centre stayed at Nashua, New Hampshire, separated from Dell HQ in Round Rock, Austin, Texas. Her LinkedIn entry reads: "After 2 years at Dell as a VP focused on EqualLogic, and almost 7 years at EqualLogic as EVP of Products and Strategy, and Founder I am taking a break." She left Dell in February.
Steve Duplessis, founder and senior analyst at ESG, said: "Paula was a huge part of Equallogic - she built the stuff. One of the very, very rare companies that I've dealt with who laid out an outrageously aggressive development plan, and always hit it. I give her a ton of credit for that."
One source close to the situation said: "Paula was always the most important person there. [She] had incredible loyalty in engineering and elsewhere."
After the Dell acquisition: "EqualLogic engineering maintained its excellent track record by releasing its high density 6500 SATA product, its 10GB Ethernet products and their SSD products ... The lack of new major software functionality since the acquisition does make me wonder how things are going. Dell doesn't seem to understand software development all that well."
In general: "Dell had a hard time embracing EqualLogic at first, mostly due to their familiarity and reliance on Clariion for storage revenues. I think Dell missed an opportunity to promote iSCSI because they didn't want to detract from their plans for FCoE (Fibre Channel over Ethernet) on Clariion."
How well did EquaLogic's team fit in at Dell? Dell was "about as welcoming as a large remote corporation could be, which was not all that welcoming, but Paula had a strategy to run the EqualLogic engineering group like it was a wholly-owned subsidiary, in other words at arms length from Dell. Minimising distractions from Dell probably helped the EqualLogic team stay on track for their deliverables."
With Paula gone, "there is little chance that Dell will be able to retain the engineering group and innovate. It means the technology will be mostly frozen from that point. ... It will be interesting to see what happens."
His is a picture in which Paula Long fought the EqualLogic fight inside Dell against the pro-EMC forces and lost. So, frustrated, she left.
He said: "Working with Dell has proven to be more frustrating than anyone imagined. Dell storage people liked EMC and didn't embrace EqualLogic. Dell finance guys liked EqualLogic but Dell storage guys never really believed in it. There's only so much a person can take. I think that paints a realistic picture."
Duplessis had a different take: "EqualLogic has received tons of love and support from Dell. The stakes (read $$) were high and Dell didn't cut any corners ... Dell was smart, they basically left the team alone in New Hampshire (NH) - allowing them to take their time and do things right instead of creating a shotgun integration and moving things to Austin. It's now been years, and Dell NH is fully integrated. It's a Dell operation now."
He thinks the reason she left was that the Dell integration job was complete, and there was no mischief involved: "I think she had a 'run for the ages' and saw it from inception all the way to a successful hand off to a very, very big brother. She made a ton of money, kept all her people employed, and personally saw through the transition. My guess is that it was just time to go. I'm not sure if she has another one in mind, or if she's going to enjoy her success to fullest, but I think she just felt that her run was over and there wasn't anything else for her to do there.
"I think she's off to whatever life holds for her next. I'm sure she will be missed, those kinds of people are rare - but the Dell Machine is big and strong and they will be fine."
Our second source sees things differently: "When you've been the technology driver of your own company, I don't think its that much fun being a part of a larger corporation ... Her departure will probably have an adverse impact on software schedules simply because hardware companies, like Dell, typically can't manage software development effectively.
"It wouldn't surprise me if there is a brain drain from that team in the months to come, but if the team is given sufficient motivation it can probably hold together."
Dell effectively declined to comment by being unable to confirm Paula Long's status for some days after being asked. ®
Sponsored: Minds Mastering Machines - Call for papers now open