Sony Vaio M Atom 2.0 netbook
If you can't beat 'em...
The PCMark05 benchmark results where par for the Pine Trail course, as was the 3DMark06 score of 159 underlining the fact that price, keyboard, battery life and aesthetics are now the primary determining factors of netbook purchase for most people. What's underneath is all pretty much the same no matter what the badge on the lid says.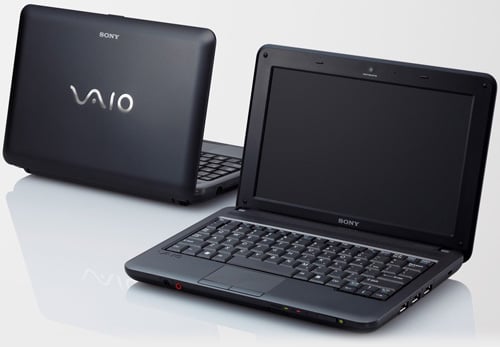 Easy on the eye, but not on the ear – the fan blows pretty much all the time
Sadly, Sony hasn't resisted the temptation to load the Vaio M with bloat. So you get the pointless Vaio Gate application launcher, Vaio Care, Vaio Media Plus, Vaio this, Vaio that, Vaio the other plus the usual trial guff from the likes of Microsoft, Norton and McAfee and a fair amount of other nonsense. This sort of tripe does Sony no favours - the first order of business on buying a new computer shouldn't be to spend half an hour removing stuff that you didn't ask for, don't want and don't need.
Verdict
The combination of a specification at the top end of the scale with Bluetooth and 802.11n wireless included, a price on the right side of £300, an attractive design and peripheral features usually found on more grown up laptops should have made the Vaio M strong competition for the slightly more expensive Samsung N220. However, the Vaio M's failings are just too many and too glaring to overlook. As it stands Sony's first attempt at a bog standard netbook is a decent enough effort hampered by a poor keyboard, weak battery and, evidently, no option to upgrade its 1GB Ram. ®
Thanks to Laptops Direct for the loan of the review sample.
More Netbook Reviews…

Dell
Mini 10
Acer
Aspire One
532
Asus
Eee PC
1005PE
Nokia
Booklet 3G

Sony Vaio M Atom 2.0 netbook
Typical 2010 netbook spec, with some Vaio style on top.