Though its not something I have commented on directly before, Windows 7 Starter does run rather more briskly on the new Pine Trail netbooks, but if you want things to move with even more smoothly, then more Ram certainly helps. However, the Sony spec has the Vaio M down as having a maximum memory of 1GB, which is what it's supplied with.

Closed book: no Ram upgrade path that we could find easily
Naturally, a bit of tinkering was in order to see if I could customise the spec at all with a Ram upgrade. I removed all the screws on the underside of the unit but couldn't even get the case off. I can only assume it is glued, as well as screwed in place, which would make a Ram upgrade effectively impossible, even assuming the memory module isn't soldered in place.
In an effort to save a few quid, Sony has dispensed with the Vaio W's chiclet keyboard and fitted a more standard design which, while acceptable, is not up to the standards currently being set by Samsung with the likes of the N140. The keys themselves are just a little too shallow in profile, their travel is a little too short and the base is not as solid as I have come to expect. In fact, it looks and feels very similar to the keyboard fitted to the original Acer Aspire One, which was fine on a machine released two years ago and costing £200 but the game has moved on.
The track pad combination is traditional in layout with two separate click bars, rather than the combined one-piece bar favoured by Samsung or the built-into-the-pad design that Dell prefers. Both click bars have a positive and firm action while the pleasantly rough surfaced Synaptics pad supports such basic multi-touch functions as pinch-to-zoom and horizontal and vertical scrolling. Incidentally, the images here of the Vaio M show a US pattern keyboard not the British layout of our review machine.
As standard, the Vaio M comes with a 6-cell battery rated at 3,600mAh which falls well shy of the 5,900mAh shoved up the backside of the the Samsung N220 or even the 4,400mAh unit in the Acer Aspire One 532. Subjected to our usual netbook SD H.264 VLC video-loop test the Vaio's battery lasted for only 175 minutes. Yet, in day-to-day use, it proved easy enough to get 4 hours from a charge. Frankly, that is just not good enough when machines like the N220 can manage more than 8 hours of regular use on a charge.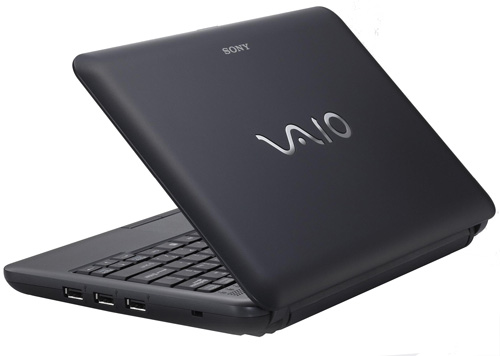 No bulbous battery pack, but the reduced capacity impacts on the unplugged usage time
Before I leave matters power related, even when the processor is under a light load, the Vaio M's fan was always spinning and its not the quietest either. Obviously, it makes more noise than the Dell Mini 10 which doesn't have a fan at all, but it is also noticeably louder than the N140 and lacks the Samsung's low power silent-running option.
COMMENTS
USB ports
"Sony has opted to put all three USB ports side-by-side on the right edge of the machine...[which] appeals to my sense of order."
Well, yes.
Until you end up sitting somewhere where USB devices on the right side of the laptop are bound to be destroyed by passers-by, such as the edge of a desk or the 'C' seat on a 737. Headphone sockets on the front are not so very clever for similar reasons, but I usually have my USB headset adapter with me anyway.
e.g.: I like having USB ports in different places around the machine. It's practical.
@ AC 10.45
Not so sir, I slotted two broadband dongles and a chunky old Xporter 32GB USB key into the M's USB ports and they all fitted with room to spare. The space between the three USB ports on the M is actually rather more than between the two adjacent USB ports on either my N140 or Dell Mini 10v.
well out of the running
even before the first page was over I knew that the main runners are still the Dell mini10 and the samsung N220.
this Sony device brings nothing new to the table and is a quick and ill-judged plan. pity...i had high hopes that Sony could deliver a new touch to this sector
@No way macros undo
"Then they'll install iTunes with QuickTime to go with their iPod/iPhone and all of a sudden you'll have conflicts between 3 media apps and their techie friend will get a call and have to spend 3 hrs of their own time untangling the whole mess all the while cursing Sony's name under their breath."
3 hours just to uninstall 2 media players??? There friends cant be very techie then can they ??
dumb design
The 3 USB ports on one side are fine for USB cables, but as soon as you use a dongle of any sorts, then goodbye to two USB ports.
Also the memory restriction is simply perverse, netbooks can be made to fly with more ram and dedicious use of RAMDISK.
Sorry but the Sony Viao label and paintjob aren't enough.