Oracle puts a JRockit under its cloud play
BEA. Oracle. Complete.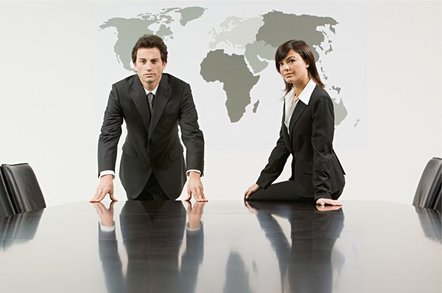 Oracle has updated its cloud infrastructure play with data-center technology that puts Java on the metal.
On Monday, the database giant said that WebLogic Server can now run on Oracle VM without an operating system thanks to a piece of software called JRockit Virtual Edition. The combination is available in a new suite called WebLogic Suite Virtualization Option.
JRockit Virtual Edition handles operating-system features such as interaction with hardware devices and file I/O and speeds up performance by removing features not considered essential for running the kinds of Java applications that use WebLogic.
JRockit Virtual Edition is based on a project conceived by the old BEA Systems - acquired by Oracle in 2008 - that began life as JRockit Liquid VM in 2006. The idea was to make its Java Virtual Machine and app server run with virtualization technology on a server without an operating system.
The news means WebLogic Server can now run using JRockit Virtual Edition with Oracle's virtualization technology, which is an important development for the database giant.
Oracle VM is the only virtualization technology Oracle has certified on x86 for all its software. Also, Oracle VM is available for free, meaning you get the first hit for nothing. WebLogic Server is Oracle's flagship application server. The combination is designed to increase Oracle's presence in the data center as a provider of middleware running clouds and online services - Oracle's preferred strategy to becoming an actual provider of cloud services.
Oracle claimed WebLogic Server and JRockit would speed the performance of virtualized applications by up to 30 per cent. Also, WebLogic Server on JRockit Virtual Edition would let users run more application-server instances on the same hardware.
The giant Monday also announced Oracle Virtual Assembly Builder, which it said would let you capture the configuration of existing software components and package them for deployment on appliances. The assembly builder would then connect assemblies. ®
Sponsored: Minds Mastering Machines - Call for papers now open