Wash out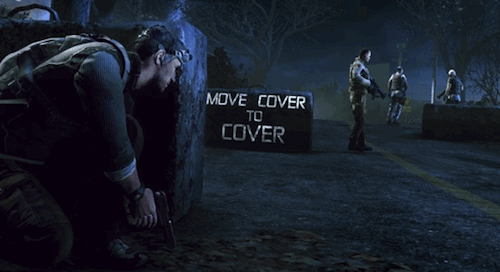 You can't see me
One introduction that surely won't please anyone, is the screen change from colour to black and white when Sam is completely undetectable. Given the developers have been so successful in improving other elements of the game, it's a shame that they've made such a jarring balls up of an ostensibly simple design choice.
Although excusable in its replacement of the pea-green used for night-vision goggles, its overuse to denote concealment - the cornerstone of the series' game mechanic - is nothing short of tragic. It's like installing Windows 3.1 on your brand new Alienware rig, and feels a complete waste of High Definition. Once beautiful levels are instantaneously and completely washed out, and spotting visual clues to assist your stealthy progress is severely hampered.
Aside from this palpable flaw, there's very little else to complain about. The cover system only occasionally disappoints; and the plot, although excellently played out in cut scenes and voice acting, is as hackneyed a pastiche of Clancy themes and Paul Greengrass movies as you can get.
Some might also consider the single player campaign short, weighing in around the eight- hour mark, but the sandbox design repeatedly dissipates concerns, replacing them with a compulsion to return to levels over and over again to attempt different strategies.
Ubisoft completes the package with various additional modes. The first, Deniable Ops, augments the single player experience with challenge rooms, in which objectives are constrained to such things as defending EMP generators from waves of enemies. Co-Op and multiplayer modes are also in there, and present both online and offline.
Co-op is the more accomplished of the two, as you take the role of either a US or Russian agent in a story that runs parallel to the single player narrative; whereas multiplayer has been reduced to a Spy vs Spy mode, which, although an improvement on Double Agent's multiplayer, never quite hits the highs of Chaos Theory's seminal Spies vs Mercs.
Notwithstanding its flaws - even in the misapplication of black and white - Conviction is a fantastic game, and one I can't recommend enough. Its real success is that of synergy. In combing all its elements, both old and new to the series, and offering real replay value and weighty additional content, Ubisoft has done more than enough to keep the disc in your drive for weeks to come and ensure the continued longevity of the Splinter Cell franchise.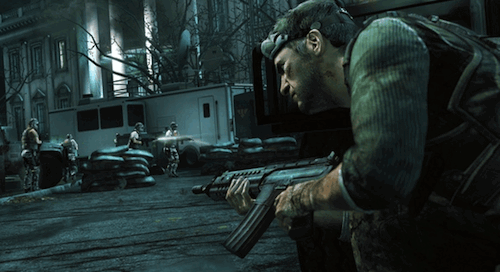 Oh soldier, soldier, won't you harry me

Tom Clancy's Splinter Cell: Conviction
An excellent addition to the series, one that just falls short of greatness. Available on Xbox 360 (tested) and PC
COMMENTS
Splinter Cell Conviction Video Guides
Hey Guys,
First I must say I have been absolutely loving conviction!
And so I decided to put together a video walkthrough with commentary on how I find it best to complete each deniable ops level on realistic difficulty. They can be found at www.youtube.com/theoriginalzebrawr
I did it with pretty much just melee kills and a pistol, so no equipment or machine guns. Though I didn't tick the box 'Pistols only' and 'equipment only' though it is done that way :)
I would love you all, and really appreciaite it if people could let me know what they think of the videos and how I can improve them at all :D
Cheers guys!
DRM
When it comes to copyright protection I mainly look for a game that does not punish me for paying good money for it. Especially a game that does not need me to be constantly connected to the internet during play and dumps me out if my connection stutters.
Worse than I expected.
Played it, traded it in already. Overhyped (as most Xbox games are these days)
Better than I expected...
Having read a few reviews (those out earlier than this) most of which were positive, I purchased TC Conviction. Was I disappointed....?
Thought the co-op play was far more enjoyable than the solo experience - lacked creativity.
A solid game though, far worse out there at the mo.
DRM? What do you look for in a video game?
Sensible Soccer Forever.
I need my eyes testing...
I thought the headline said sphincter cell! Perhaps that is the correct spelling because the Clancy franchise stinks these days.