Last Known Position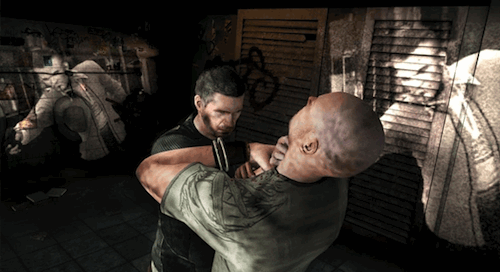 Necking
Ubisoft didn't just stop there. It has also introduced a feature known as your Last Known Position. If your cover is blown, all guards in the immediate vicinity will focus their fire on that position, which is marked onscreen by a Ghost-like outline of your body. As with Mark and Execute, this offers another dynamic to your tactics. Until you're spotted again, enemy focus remains on that Last Known Position, providing you an opportunity to go covert once more, flank around them and take them down.
Although possible to adopt this strategy in almost every engagement, and, in a sense, cheat the game, enemy AI and firepower is sufficient enough, especially in the realistic mode, to ensure you are at a significant disadvantage when detected.
Compelling you to make the most of these new features (not to mention Conviction's competent cover-based system), Ubisoft has mixed up the level design to great effect. Levels based at night or in dimly lit car parks and buildings see you firmly in classic Splinter Cell territory: taking out light sources and using environmental features such as drain pipes and sewer tunnels to sneak past enemy strongholds unnoticed. Other levels based in broad daylight or in well lit locations, however, force you to adopt a more gung-ho attitude.
Mixing it up even further, one level sees you in a heart pounding foot chase in pursuit of an enemy assassin; and in another, set in a flashback during the Iraq conflict, you're forced to fight in relentless engagements, where stealth is anything but the key to success.
This mix in gameplay is Conviction's critical success, and the developers are keen for you to employ as many strategies as possible. So much so, they even reward you for doing it. P.E.C. Challenges work in a similar vein to many Xbox Live Achievements. Rack up silent headshots or disappear without a trace after being discovered and you'll be awarded points redeemable at weapon stashes to upgrade your arsenal.
Although not core to gameplay (it is theoretically possible to complete Conviction with just a silenced pistol and stealth alone), the new features combined should please all but the most hardened stealth purists.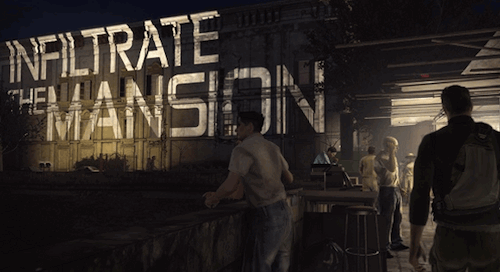 Who's in Da House?
COMMENTS
Splinter Cell Conviction Video Guides
Hey Guys,
First I must say I have been absolutely loving conviction!
And so I decided to put together a video walkthrough with commentary on how I find it best to complete each deniable ops level on realistic difficulty. They can be found at www.youtube.com/theoriginalzebrawr
I did it with pretty much just melee kills and a pistol, so no equipment or machine guns. Though I didn't tick the box 'Pistols only' and 'equipment only' though it is done that way :)
I would love you all, and really appreciaite it if people could let me know what they think of the videos and how I can improve them at all :D
Cheers guys!
DRM
When it comes to copyright protection I mainly look for a game that does not punish me for paying good money for it. Especially a game that does not need me to be constantly connected to the internet during play and dumps me out if my connection stutters.
Worse than I expected.
Played it, traded it in already. Overhyped (as most Xbox games are these days)
Better than I expected...
Having read a few reviews (those out earlier than this) most of which were positive, I purchased TC Conviction. Was I disappointed....?
Thought the co-op play was far more enjoyable than the solo experience - lacked creativity.
A solid game though, far worse out there at the mo.
DRM? What do you look for in a video game?
Sensible Soccer Forever.
I need my eyes testing...
I thought the headline said sphincter cell! Perhaps that is the correct spelling because the Clancy franchise stinks these days.