Tom Clancy's Splinter Cell: Conviction
Classic territory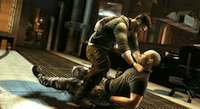 Review
Sam Fisher's sixth videogame outing, and his first in almost four years, marks a further refinement of the core principles of the Splinter Cell franchise. The real-world credibility provided by Clancy's endorsement remains intact, as does Sam's modus operandi of infiltrate, interrogate and assassinate. Even the story, although devoid of the geopolitics of previous entries, still resounds with murky government agencies, PMCs and EMPs.
What has changed, however, is something of a quiet revolution. By introducing a much greater sandbox approach to gameplay, Ubisoft had successfully broadened the series' appeal to a wider audience, one previously turned off by its traditionally punishing pedantics. Sure, the developers have tinkered with the core game mechanic of stealth before, especially apparent between the soul-destroyingly difficult Pandora Tomorrow and the more forgiving Chaos Theory, but Splinter Cell has never felt so accessible and, dare I say it, fun!
Whereas in previous games missing alarms, being caught in spotlights, or not concealing dead bodies, invariably meant game over, in all but one of Conviction's single-player levels such mistakes now result in far less finite outcomes: messy, frenetic gunfights against multiple hostiles.
That's not to say you'll always survive such gunfights - Sam Fisher is still no bullet sponge. But at least got a fighting chance to survive and continue the level uninterrupted.
In relaxing the rigidity of stealth, Ubisoft has also been careful not to alienate the series' hardcore fanbase. Stealth still remains the absolute best strategy. And while Conviction offers no particular reward for avoiding enemy guards altogether, there certainly is for killing them surreptitiously.
For every hand-to-hand kill, you're rewarded with a single burst of a new mode called Mark and Execute. Depending on the weapon in hand, you can tag up to four different targets. Once tagged and in range, markers turn red, signalling you're just one button press away from executing them with single, automated bullet-time shots.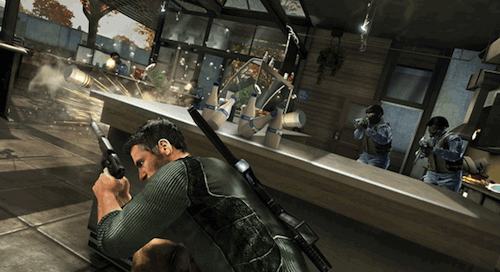 Whose round?
COMMENTS
Splinter Cell Conviction Video Guides
Hey Guys,
First I must say I have been absolutely loving conviction!
And so I decided to put together a video walkthrough with commentary on how I find it best to complete each deniable ops level on realistic difficulty. They can be found at www.youtube.com/theoriginalzebrawr
I did it with pretty much just melee kills and a pistol, so no equipment or machine guns. Though I didn't tick the box 'Pistols only' and 'equipment only' though it is done that way :)
I would love you all, and really appreciaite it if people could let me know what they think of the videos and how I can improve them at all :D
Cheers guys!
DRM
When it comes to copyright protection I mainly look for a game that does not punish me for paying good money for it. Especially a game that does not need me to be constantly connected to the internet during play and dumps me out if my connection stutters.
Worse than I expected.
Played it, traded it in already. Overhyped (as most Xbox games are these days)
Better than I expected...
Having read a few reviews (those out earlier than this) most of which were positive, I purchased TC Conviction. Was I disappointed....?
Thought the co-op play was far more enjoyable than the solo experience - lacked creativity.
A solid game though, far worse out there at the mo.
DRM? What do you look for in a video game?
Sensible Soccer Forever.
I need my eyes testing...
I thought the headline said sphincter cell! Perhaps that is the correct spelling because the Clancy franchise stinks these days.