Obama 'deep space' Mars plans in Boeing booster bitchslap
Megacorp sees Elon Musk/prez chumship threat?
Brobdingnagian US aerospace firm Boeing has more or less openly condemned the revised Obama plan for the US space programme, under which no decision on a heavy-lift rocket will be taken until 2015. The space megacorp seems worried at the close relationship between the President and upstart startup rocket firm SpaceX.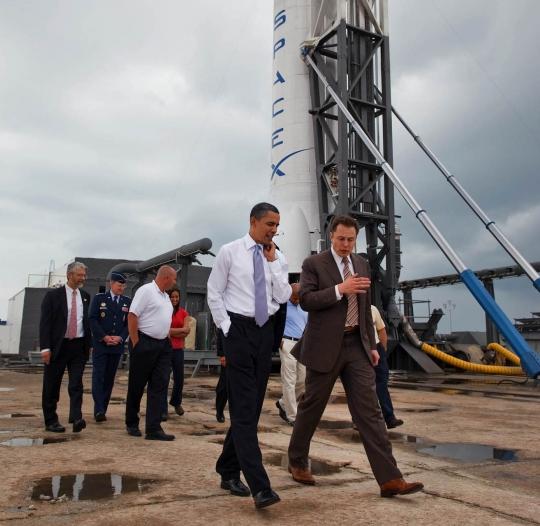 I'm telling you, Mr President, those Boeing guys'll skin ya
Boeing is a major established player in US space exploration, and was heavily involved in the now largely-cancelled "Constellation" programme. Constellation would have replaced the retiring space shuttle fleet with an Orion space capsule and Ares I person-lifter plus Ares V heavy-lift rockets. There would also have been new "Altair" lunar landers.
Last week President Obama's revised plan for manned space exploration - outlined in a speech made at Cape Canaveral - confirmed that Ares I and V remain dead, and that the Orion capsule will be used in the immediate future only as a lifeboat for the International Space Station, being sent up unmanned on an existing rocket.
The President also confirmed that there will be no return to the Moon, which not only renders the hotly-debated question of lunar ice mining irrelevant but kills the Altair landers too.
"I just have to say pretty bluntly here: We've been there before," said Obama.
Sponsored: Minds Mastering Machines - Call for papers now open