Sleep-scheduling software developed for ISS astronauts
Knit-up-the-ravelled-sleeve-of-care 'ware
American space boffins say they have developed fiendishly cunning software which uses "complex mathematical formulas" to work out the best times for people on irregular schedules to have a kip.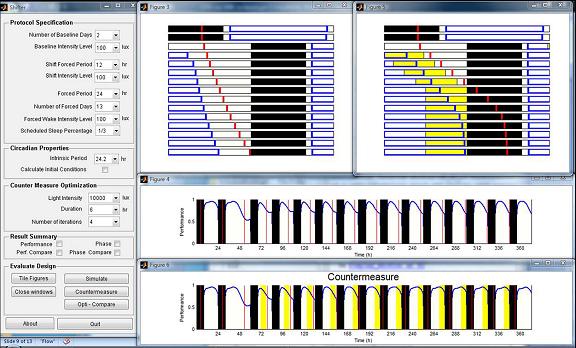 Code zed.
The schlaf-ware was developed by programmers at the US National Space Biomedical Research Institute, aimed specifically at astronauts crewing the International Space Station (ISS). ISS space-aces have to work in shifts, and these are further complicated by irregular events such as spacecraft dockings.
The idea of the NSBRI's Circadian Performance Simulation Software (CPSS) and the accompanying "Shifter" package is that you would be able, as a busy astronaut - or perhaps a ground controller in charge of one - to key in a schedule of duties and activities. The CPSS then determines which are the best times for the harassed orbital operative to have a nap, or alternatively to chug down some refreshing coffee made from recycled rat wee - or alternatively a similarly moistened custom space sports drink.
"If there is a mission event, such as a spacewalk, scheduled at one or two o'clock in the morning, what can we do to help the astronaut to be alert and functioning well at that time?" says Dr Elizabeth Klerman of the NSBRI. "Do we suggest a nap or caffeine? Do we shift their sleep/wake schedule? There are a variety of options that we would like to be able to provide."
The snooze-suite also provides instructions for varying the space station's apparently extremely complicated dimmer switches to provide the optimum "timing, intensity and wavelength of light" so as to keep a weary spaceman or woman sharp and alert.
The NSBRI researchers suggest that this could be yet another case of spin-off benefits from the space programme benefiting humble groundbound humanity as well as astronauts. They believe that CPSS could also be of benefit to anyone who doesn't work normal hours: police, medics, transport crew, utilities workers, self-employed programmers, bar staff etc.
And those who work a normal 9 to 5 job would also benefit, as they would have less risk of being run over by dozy truck drivers or accidentally maimed by weary doctors, etc.
"Our lives, including our safety, are impacted by those people who have jobs requiring shift work or extremely long hours and who may be at increased risk of accidents and errors affecting themselves or others," says Klerman.
Software: the saviour of us all. ®
Sponsored: Minds Mastering Machines - Call for papers now open