The coolest arse on the planet
Plug and play!
There's that word "pad" again - but for buttocks this time. Not an arse-wipe, this is a "plug and play" - yes, really, cooling device to stop your bum getting sweaty in marathon gaming sessions.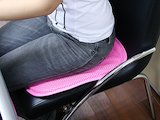 Hot pink, but not sweaty
Called the USB Cooling Seat Pad, this gaming peripheral costs 25 bucks and comes in hot pink and moist orange - not the first colours that spring to mind for hardcore gamers.
The gadget contains a built-in cooling fan which sucks in air and funnels it through string-vesty holes in the seat pad.
It draws power through the USB port of any machine that has power such as a PC and a games console.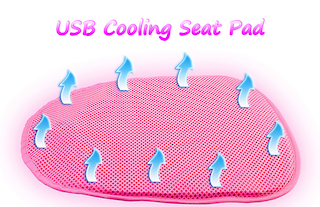 Arrows? You expect me to sit on that!
Which is nice. Maybe it would be even nicer to get up from time to time and stretch those legs... no? Then be sure to be packing a "pee bottle".
Go, gamer, go!
COMMENTS
hmmm
Maybe quite good for the car :)
drove a car in the hot summer once that blew air through the seat was awesome !!!
Shouldn't that be?
Moist brown, rather than moist orange.
Now if someone could produce a gadget that makes me a pot of tea and brings it to my PC with a plate of nice biccies...