Nokia X3 sliderphone
Simple, but effective
Music sounds pretty good through the surprisingly good quality headphones that come with the X3 though. They feature a flat cable and noise-isolating cushions for the ear canal but it's a pity that the in-line controls only stretch to jumping on to the next track, rather than full pause, FFD, RWD action.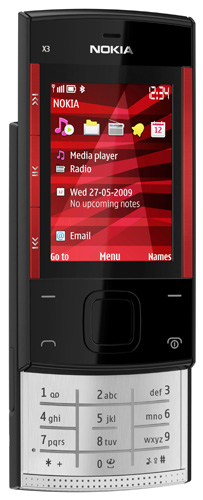 Good headphones but the FM radio reception was left wanting
The equaliser offers seven settings for classical, rock etc, each offering slightly different variations, though the stereo widening feature does have the effect of stretching the soundstage a little. The FM radio features RDS but the reception, on our test model at least, was surprisingly poor, especially given the fine examples Nokia has delivered in the past.
Watching video on that small screen isn't much fun, and the blockiness and pixellation of the display wasn't helped by regular lag and stuttering. There's the option to switch to landscape viewing though, which improves viewing, a little. The X3 comes with a 2GB micro SD card already on board, with the capacity to accept up to 16GB cards which should be plenty if you really are keen to fill up this phone with movies.
The camera is far from spectacular but it's no embarrassment either, delivering decent quality pics so long as you're careful with light and don't ask it to do too much to reduce blur. There's no flash, autofocus or much in the way of settings but it starts up in less than two seconds and takes a snap immediately, ready to go again in another couple of seconds.
The 176 x 144 pixels video capture at 15fps, drops the resolution so low that it's hardly worth using unless whatever you're filming is brilliantly lit and barely moving. The relatively slow internet access means web browsing is always going to be a laggardly business too – despite the presence of the usually nippy Opera browser – and not something you're likely to be indulging in on a whim.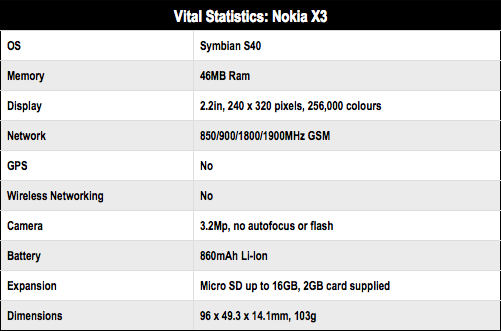 Sponsored: Minds Mastering Machines - Call for papers now open