Bioshock 2
Successful sequel shock?
Encounters with Big Sisters
Occurring at least four times in each stage, this is the most common of the new scenarios. And while little strategising is required to handle the simple pairing of Leadhead and Thuggish Splicers in early encounters, serious planning is required to counter the introduction and combination of Houdini, Spider and Brute Splicers in later ones. Less frequent, but arriving with much greater impact, are the encounters with Big Sisters.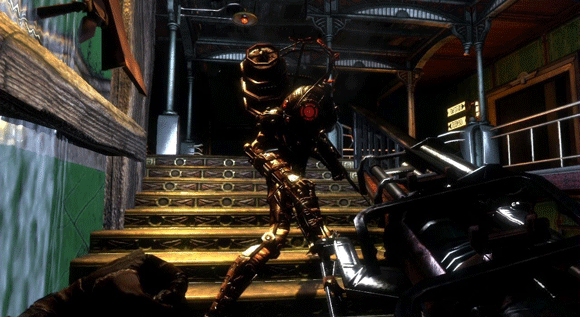 Lord help the mister who comes between me and my Big Sister
Incredibly fast and powerful, Big Sisters have usurped Big Daddies as the most formidable denizens of Rapture. Occasionally triggered when you rescue a Little Sister, and presaged by shrill screams and disorientating shudders of the screen, these encounters present not only the greatest challenges within the game, but its most unsettling ones too.
Even here, however, Bioshock 2 inherits one of the key flaws of its predecessor's design. The go-everywhere, open-anything, collect-everything attitude of the seasoned RPG player rewards you with powers so great that you soon outmuscle the game's confines.
Even on the most difficult setting, you'll find yourself halfway through the six - eight single-player campaign having amassed an embarrassing surfeit of ways to down even Big Sisters. Sure, the game retains your interest and combat remains enjoyable throughout; but it's an odd design choice to retain the less-than-perfect pacing of the first game. And while it seems churlish to complain of omnipotence in any videogame, it does diminish the sense of achievement.
Ultimately, Bioshock 2 feels like the gaming equivalent of giving it another go with your ex: for a while you're glad to be back, and the new tricks to learn make it feel fresh and exciting.
But the longer you spend with it, the more familiar it all becomes, and the more you're reminded why you've left the original collecting dust on the shelf. Given Bioshock's greatest asset was its originality, especially in its narrative, it's hardly surprising that 2K's sequel struggles to offer any real compelling justification for its own existence. ®

Bioshock 2
A reasonable attempt to follow up on a genuine masterpiece, but one that ultimately falls short of repeating the first game's success. Available on Xbox 360 (tested), PS3 and PC