Apple in Brazilian iPad shocker
Defibrillators at the ready...
Apple has come a tad unstuck in Brazil over its omnipotent and paradigm-redefining iPad, because the name is already registered to a South Korean defibrillator manufacturer.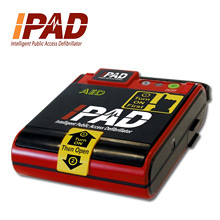 CU Medical Systems' i-PAD NF1200 is a "semi-automated external defibrillator" distributed by Transform Tecnologia de Ponta, which explained to AFP that's it's been punting the units for over two years and registered the moniker with Brazil's National Industrial Property Institute (INPI) last year.
The company's sales supremo, Alathea Silva, told the news agency: "No one has been in contact with us about the iPad name."
While the iPad has no known powers of resuscitation, and the i-PAD probably lacks the facility to run stunning third-party apps, the two devices do have a couple of things in common. The latter is described as "lightweight and battery powered for maximum portability" and "designed for minimally trained individuals" - something which will strike a chord with Jobs-worshipping fanbois.
Apart from that, the pair share only a name, and Apple is apparently determined to wrest that from the South Koreans. Brazilian media say the company has asked INPI to hand over the title, but if that fails, it will have to do the unthinkable and actually cough hard cash for exclusive Brazilian iPad rights. ®
Sponsored: Fast data protection ROI?