Microsoft's unveils 'social' phone for Boho hipsters
Not your dad's Windows work mobile
Is it a Palm Pre, a Sidekick, or an iPhone? No, it's Microsoft's long-awaited mobile phone that borrows from all these, and it's called KIN.
On Monday, the company unveiled the KIN One and the KIN Two, its so-called social phones that combine the look of the Pre and the teen-popular Sidekick from Danger and Sharp, with the closed engineering culture refined by Apple and the iPhone.
Also unveiled were KIN partners: consumer electronics giant Sharp is making the phones and slapping Microsoft's logo on the outside - similar to how HTC makes Google's GPhone. As for the carriers: Verizon and Vodafone will be the exclusive providers. Phones will be available in shops in the US from May. Vodafone will take the handsets to Europe in the autumn.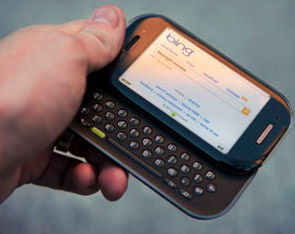 Is this a Sidekick I see before me: Microsoft's KIN Two
The KIN's flagship feature is the combined software and services aspect of the phones, based on Microsoft's Zune MP3 player and the work of the mobile "experience" manufacturer Danger, bought by Microsoft in 2008, which collaborated with Sharp on the Sidekick for T-Mobile.
The phones comes with Kin Loop, a home screen that sucks in Facebook, Twitter, MySpace, and Microsoft feeds, and which lets you select and rank your favorite feeds and social buddies. Also, there's Spot - a place in the phones' interface where you drag photos and share them with other people.
The phones are storage- and software-light - with KIN One and KIN Two offering just 4Gb and 8Gb onboard storage respectively. They also come with a camera each - five and eight mega pixels. Instead, the focus is offline. The phones come with KIN Studio, which automatically backs up texts, call history, photos, videos, and contacts.
Running under the covers is Windows 7, whose touch APIs provide the ability to poke, drag and pinch various screens. Surprisingly absent is Microsoft's Silverlight - surprising because Silverlight is the programming environment for Windows Phone 7 and because the KINs offer the same Zune-like interface of large, scrolling text. Also, we understand that the browser is "based on the Zune" browser, not Internet Explorer.
Also missing is Adobe Systems' Flash and third party applications, which have been blocked from the KINs. This could be because of the KINs' limited memory and Microsoft is providing back up and replication through Studio, so it wants to keep the API calls simple to avoid a repetition of the outage that embarrassed the company last year.
How will the KIN be sold and at what price given its lack of openness, limited features compared to a regular smartphone, and lack of differentiation? It's difficult to know. Having lost valuable smartphone market share in the past year, Microsoft will use KIN to attempt to claw its way back.
Tip of the hat to Engadget for noting one potential target market on the KIN website. "A 20 something living in Brooklyn on your parents' money while pursuing a career in the arts." Clearly, Microsoft marketing's been watching too much Fame and Zooey Deschanel during its weekends.
Hinting at the sales challenge ahead, Verizon said at the KIN launch in San Francisco that it would not discuss price or call plans during the event. "I'm not going to get into that today. Today is about the experience of KIN," the Verizon spokesperson said.
With the KIN due in Verizon's shops in less than three weeks, either Verizon's playing its cards close to its chest or it's still trying to find the right price point. ®
COMMENTS
'KIN 'ell...
Who 'KIN dreamt up that 'KIN name?
apples and oranges...
Maybe it's because this is a cheap phone for teenagers to twat each other's mybook uppokes, not a 'serious' (see I can't even omit the inverted commas) smartphone that has had a massive amount of talking-up as the best small object for browsing the web ever and there is NOTHING ON EARTH AS GOOD AS IT. EVER.
Oh, and I expect this will cost about 20% of what the iPhone does.
As usual, if it isn't rabid anti-Iphone bollocks issuing forth, it's rabid fanbois trying to poke the hornet's nest into providing the correct respone.
It's a fucking phone. Are we in any danger of either side getting that tricky fact anytime soon?
Sounds very good at the right price!
Sounds rather ideal for a certain age group who want a cheapish phone that lets them quickly upload their hundreds of pictures and videos. I mean a lot of people of the right age group pretty much just want a phone to do their social networking, take phone calls and take pictures so this is pretty much perfect for them.
Not for me but certainly can see a big market if it's priced right (which is free on most contracts and maybe just over £100 (at most) on PayG).
Am I the only one to see the comedy in this name?
Paris, cos I'm sure she swears at her 'kin phone when someone hacks her 'kin voicemail.
Subs, please check.
"Running under the covers is Windows 7"
I would think this fact alone would deserve a headline of it's own, don't you?