A multitasking iPad? Let's bin the netbook
Hey. Maybe this could be useful...
Comment It hasn't taken long for the iPad to be seen as a bit more than a pointless and expensive luxury lifestyle accessory. Just nine weeks - and in that time the hardware spec hasn't changed at all.
But last week's iPhone 4.0 preview, which isn't due on the iPad until autumn, already makes it look much more attractive as a netbook or laptop replacement than it did on Wednesday.
I'll admit I truly loathe netbooks. When the first models emerged at least they had their size going for them. Now they're bigger and more expensive, but mostly dog slow.
Size and weight matters to me, and the iPad has had these advantages from the start. The disadvantages of an iPad over a laptop were many, but the lack of multitasking was the biggest. That's been fixed now - at least well enough so most people don't notice.
Lack of a physical keyboard is another problem, but iPhone 4.0 gets proper third-party Bluetooth keyboard support. Apple's official keyboard accessory, the 'iPad Keyboard Dock', is very unlike-Apple. It can only be used on a flat surface, and doesn't look toddler proof: it places a lot of strain on a fragile connection. The Apple Wireless Keyboard will work, but it's a generic device. It doesn't make typing on your lap practical, as a custom-designed keyboard might*.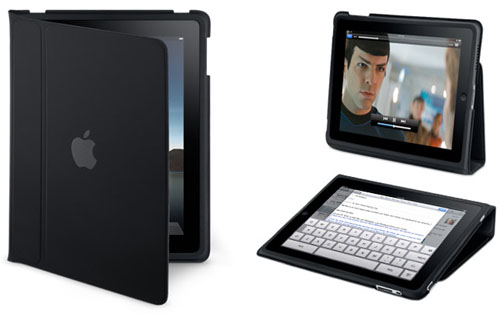 Even with the sleeve, it's less obtrusive than most laptops
But the iPad has gained VPN support and crypto, two strong candidates for grown-up computing. Whether any of the iPhone OS ssh clients can now sprout standard features such as port forwarding remains to be seen. I have no fear of jailbreaking to get at such raw features, but plenty of people quite understandably do.
Apple's version of multitasking may almost be good enough. I liked the observation that "if you see a stylus, they blew it. In multitasking, if you see a task manager... they blew it. Users shouldn't ever have to think about it."
True, but Apple's method gets weary and RSI-inducing very quickly. Remember that most of us, most of the time, switch between just two tasks. iPhone OS 4.0 lacks a quick gesture to achieve this.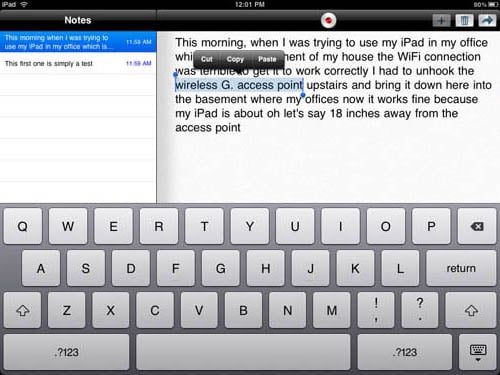 Our Rik tries out Dragon Dictation
But I think with the OS update, the iPad will be finding its way into potential buying decisions in a way it didn't at launch.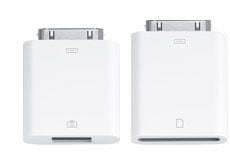 Uh, no. Give me real USB
In January I had three good reasons to dismiss it as a laptop alternative: price, multitasking and the lack of a USB port. I consider the latter an essential gateway to a wider world of hardware such as cameras, card readers, controllers and things we haven't thought of yet.
Well, USB obviously isn't going to be fixed in this year's model, and may never be. It clashes with the purity, or puritanism, of the Steve approach. Multitasking has been fixed. The price for UK users still hasn't been revealed - so that's a variable. Obviously I'm not going to be writing a book on an iPad. But quite unexpectedly, it's looking like a useful bit of daily computing kit.
What are your deal breakers? ®
*In the past ten years I've tried every Bluetooth keyboard going and paired it with a smartphone. Each time, against my better judgement, I thought it might work. They were all more trouble than they were worth.
COMMENTS
Deal breakers: price, USB, and Apple's attitude
You're very much correct that multitasking vastly improves the potential of the iPad. However, it still isn't up to even the technical capabilities of my phone, let alone a decent netbook.
That aside - the iPad isn't supposed to be a laptop - the big problem for me, in addition to those stated in the article, is Apple themselves. Their attitude regarding the app store, which in itself isn't nearly as open as other platforms' software sources, sucks. As a techie boy, I would not want to have my software choices dictated to me, even in part. If I want to use Opera, Fennec, etc then I bloody well will.
Again, these won't affect the majority of the population, who will regard the software on the iPad simply as a part of the product. But it would certainly affect me, as well as any existing tablet/netbook users with their own software preferences.
As for jailbreaking, sod that. I shouldn't have to re-flash an expensive, premium computing device just to be able to install my own choice of software. I wouldn't accept that on a laptop, or a phone, so why should I accept it on a tablet?
Deal breakers
1) the ability to touch type, can't really do that if you can't feel the keys
2) lack of 3rd party hardware support, I can't plug in any old mouse and use that
3) no control over what I want to do with *my* device
4) no control over what applications I want on my device, I can't fire up VS, test it on an emulator then put it on my device like I can with a netbook/laptop/mobile
5) no flash support
6) no silverlight support
7) no java support
8) no ability to dual boot Windows/Linux
9) you fold a netbook, the screen is secured by a big bit of plastic
10) it's a mobile phone OS, it'll never support hardware which requires driver
11) no full, proper HD, nor proper widescreen
12) it's too gimicky
13) tied in to Safari instead of Opera/Chrome/IE/Firefox
14) I want to give my money to a monopoly who we know are a monopoly, not one that does monopolistic practises but never gets slammed for it
15) the features on the iPad will be on the iPhone, if you have one, you don't need two
16) Apple are mediocre at best when it comes to sound
17) designed by an art student and not by an engineer
18) etc..
Millions and millions
By the same measure there are 10s if not 100s of millions of apps for windows machines. The key difference is that I don't have to wait for Steve to approve my windows app, and I'm not at risk of the approval being revoked in the future either.
use linux on your netbook
I've been running ubuntu on my netbook for 6 months, i sold my laptop and dont use my desktop anymore.
I have compiz and all thge swishy desktop effects on, dock, multiple desktops, edge task switcher, 3d cube, all of it.
I can play older games (GTA 4 and quake 3 etc...) i can run any app i like on it, full office suite, programming. Netbooks are not handicapped in anyway and the media's constant insistence that you cant do some crucilal things on netbooks is just wrong.
i have an advent 4213 with 2GB ram and a 1.6ghz atom. I am a multimedia user,i watch movies, listen to music, write letters, edit photo's, encode video, print, webcam, media card reader, 3 usb ports, 3G modem, wifi, lan.
As an engineer and hardened pc user i simply dont need anything else now i have this netbook.
If you want to, for £100 you can buy a touch screen monitor for your netbook and fit it yourself, it's only a 4 or 5 screws away on mine. Install the touch screen drivers for ubuntu and there you go. Why you would want to do that fails me but i guess the cravat wearing coffee shop dwellers and those twats that sit on the bus glued to their iphones might like to.
what it isn't
Is anyone else tired of people saying they don't like these devices because they can't do xyz on them?
*sigh* It isn't a desktop, laptop or netbook, it never was and never will be. Yes you could probably code up Enterprise java beans on a classic atom linux netbook, but would you really want to? (don't answer that - I know someone out there wants to). In fact, what would be ideal for use on a 10" screen?
Well you could browse xkcd, do the odd email. Read stuff (if it was comfortable to hold at a reasonable distance). It would be a great universal remote control if it was instant-on. You could play the odd silly game or music, check the weather forecast, order cinema tickets, check directions to the restaurant for this evening or see if that gadget is cheaper on ebay.
In short, its an information access device, not a high-power computational device in its own right.
Apple aren't pushing it as a laptop replacement, so why does everyone want it to be one? I suspect because many people don't want to spend that much cash on something so limited when a little more can get you so much more cpu/memory/freedom. But Apple know that the apps are king and are selling a way to run AppStore apps on a different form-factor. If you don't want the apps, don't get the device.
It's a classic problem - it has a screen, does email,web-browsing etc so people expect a normal computer. That isn't it. That's is why Apple have made such big inroads into mobile phones but less so on the desktop. People didn't have the "oh but I want to to do xyz that I normally do" attitude to phones because they were all awful and definitely not computers. Apple have tried to avoid this on the ipad by changing the form-factor away from a "normal computer" to a "large phone" to reset expectations.
Me? I"m hoping for a really good android tablet. Or at least waiting for IPad v2. No skype with webcam is a deal-breaker. for me.