Panasonic Lumix LX3
Review With its all-metal body and rangefinder styling, Panasonic's Lumix DMC-LX3 makes a definite impression. Unlike the other cameras on test, its lens sits about 2cm proud of the body, making this the least pocketable camera here with the hulking exception of the Canon G11.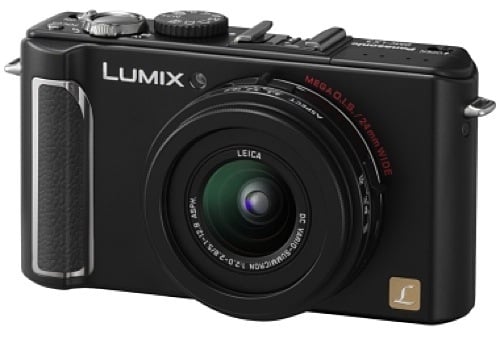 The layout is traditional, with a mode dial - including aperture and shutter priority modes, plus a fully manual setting - on the top and an array of buttons on the back next to the 3in screen.
The extra space on the barrel of the lens is put to good use, hosting switches for changing the focus mode from normal, to macro or manual modes, and another switch giving you the option of shooting in 4:3, 3:2 or a rather unusual (for photography) 16:9 mode.
The LX3 is the only camera here with a hotshoe, which you can use for attaching Panasonic's optional flash unit or - frankly rather superfluous - optical viewfinder.
The ring around the front of the lens can also be unscrewed to allow you to fit a lens adapter, the DMW-LA4, which costs around £30. With this fitted, you can attach various screw-in filters, or a wide-angle attachment - the DMW-LW46, around £160.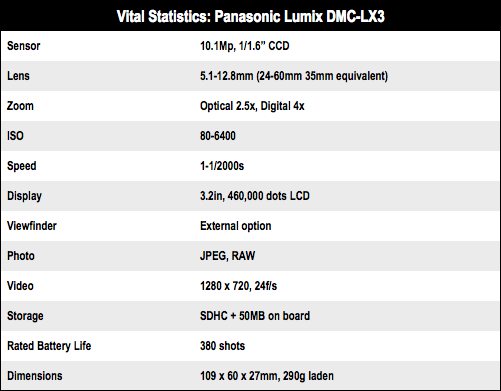 COMMENTS
LX3 -purple fringing
Why has the grossness of the purple fringing in the test shots not been mentioned?
LX3 plusses and minuses
I bought a second-hand LX3 recently and have been giving it a good workout on a trip to Japan. My thoughts:
The LX3 can record 720p video -- most compacts limit out at VGA video resolution. The downside is that the framerate is limited to 24fps.
A fast f2.0 lens and large sensor means it works great indoors without a distracting flash being required. The flash itself is a pop-up device so it's pretty much impossible to leave it on auto by default and have it fire when you don't want it to.
The 24mm wide-angle setting is turning out to be more useful than I thought it would although the combination of the fast lens and wide-angle is probably the reason the zoom range is so limited.
What I miss on the LX3 are things like an optical viewfinder (I'm somewhat old-school) and a tilt-swivel LCD panel, both of which were features of my previous compact camera, a Canon A640 Powershot. The LX3's clip-on OE lenscap is an anachronism waiting to fall off and get lost but I have an aftermarket automatic lenscap on mine which does an OK job of protecting the glass.
hot shoe
Small nit: the LX3 is not the only one with hotshoe, G11 has one as well.
Otherwise, nice review, although I think Ricoh GX200 would've been more at home in this group than the CX3, and Canon S90 would probably have scored fairly high, too.