To connect or not to connect?
More from readers on real-world ERP practicalities
Nevertheless, pretty much all of our respondents had been involved in making such initiatives happen, with activity distributed across various types of requirement looking both up and down the demand/supply chain (Figure 2).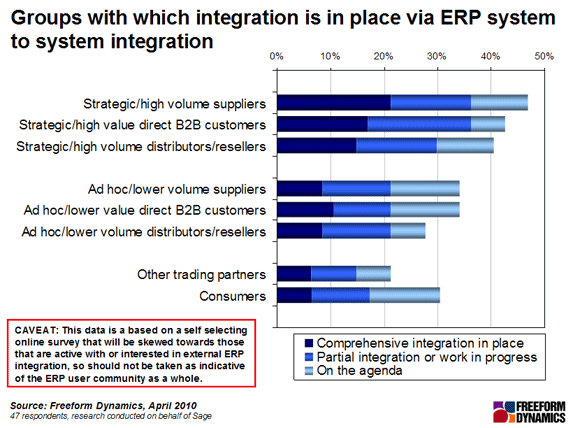 Figure 2
What's clear from this picture is that the level of potential challenge and expense has led to a generally greater emphasis on the more strategic or high-volume trading relationships you might have, where the impact of automation is likely to be higher and the associated pay back more significant.
Building on the previous comment about commitment of other parties, this manifests itself in a need to make sure expectations are properly aligned from the outset between trading partners. Consequently, a number of readers highlighted how critical it is to be clear in specifying requirements up front:
Develop a clear idea of what you need, document it and get mutual agreement before starting the development!

Functional and technical specification are not optional steps.
Given that motivations, capabilities and the degree of commitment between parties can vary significantly, as can culture and attitude in areas such as security, risk, quality and so on, we received quite a few comments relating to the way in which an integration initiative is managed and executed.
Make sure you have a decent project manager who can coordinate all the parties involved.

If using a 3rd party tool to provide links to your ERP system (e.g. e-invoicing), make sure your tech people are able to communicate directly with their tech people - avoid being caught in 3 way relationships with fake tech go-betweens (sales people).

Make sure your integration team have required access to a) functional specialists b) network/system specialists as required
As we discussed before in the context of ERP implementations, achieving and maintaining alignment between stakeholders and domain specialists can be enough of a challenge when working across organisational boundaries internally. When a project crosses a company boundary too, things can get especially 'interesting' from a coordination, management and authority perspective.
Turning to advice on more technical matters, quite a few readers stressed the importance of making sure IT teams are aligned on interfaces and standards, and actually doing some basic testing of assumptions before diving into full development:
Share SDK like 'hello world' samples with your partners early

Open standards, open standards, open standards, keep it simple, open standards, open standards, open standards.
With the best will in the world, however, anticipating what you are going to be dealing with in terms of exceptional situations - whether process or data related - before you start running actual transactions through the system is almost impossible. You might be very confident in the data cleansing and mapping you have done your end, but has the other party understood the end result? And how good and consistent a job have they done on cleaning things up their end? All of this makes testing particularly important for projects such as this, and paying due consideration to the residual exception conditions that will need to be dealt with manually:
Make sure it all works perfectly before it goes live!

Test thoroughly

Don't forget the processes that follow. Someone has to pick up the failed invoices and work out why they failed.

Consider disaster recovery after the annihilation of some parties
So, while there is a lot of potential business benefit to be gained from B2B integration of ERP systems, there is a lot to consider, and we hope some of the warnings and tips listed above will help those exploring this route.
In the meantime, we would like to leave you with a last thought from one Reg reader. While we glibly use terms like 'trading partner' when discussing activity in the supply/demand chain, at the end of the day businesses put their own interests first, and a joint project isn't going to suddenly make them your best friend:
The larger the 'partner', the less flexible and more unreasonable they will be.
For those who missed our poll, feel free to add your own thoughts in the discussion area below. ®
Sponsored: Minds Mastering Machines - Call for papers now open