Data Domain doubles up on top dedupe
Meet the twins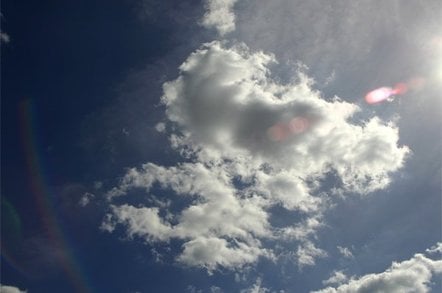 Data Domain has doubled the capacity of its top dedupe box and clustered two of them together with a global deduplication ability, offering up to 14.2PB of logical backup capacity.
It's not global deduplication as competitors like Sepaton with its multi-node global deduplication would have it, but it's a step towards it, and Data Domain (DD) hasn't had to compromise its inline architecture to do it.
The DD880, Data Domain's high-end product, has had its logical backup capacity doubled to 7.1PB, but EMC doesn't say how this has been achieved. This may be simply a jump from 1TB SATA drives to 2TB ones.
Data Domain has also introduced new replication capabilities, with a one-to-many feature enabling the products to replicate deduplicated data to more than one target, supporting two or more DR sites plus copies for use in test or other scenarios.
EMC says that the DD880 has an up to 54TB/hour throughput for offsite protection and consolidation of tape-out operations. DD Replicator also has a new low bandwidth feature in which source DD sites use delta compression to send their deduplicated data to a central hub.
This will suit remote and branch offices as their bandwidth needs can be reduced by up to a claimed 100 per cent. It makes one wonder why the received data can't be stored in deduplicated and delta compressed mode, thus increasing the effective data reduction ratio by more than just deduplication on its own.
There is also DD Encryption software which can encrypt deduplicated data using 128-bit or 256-bit AES encryption to render the stored data more secure.
Now to the glamour part of the announcement - the Global Deduplication Array (GDA); a pair of DD880s in a cluster with a single namespace. The cluster interconnect is two dual-port 10 GbE cards, one per controller.
This two-controller system can ingest data at up to 12.8TB/hour and support up to 270 concurrent backup jobs. The GDA looks like a single deduplication storage pool to backup servers and jobs are load-balanced across the two controllers. As well as supporting up to 270 simultaneous backup jobs it supports a fan-in of up to 270 remote offices.
The software makes use of Symantec's OpenStorage plug-in software to tightly couple the GDA with NetBackup and Backup Exec media servers. The combination means that, EMC says; "The [GDA] distributes parts of the deduplication process to the backup servers to reduce network load and increase the throughput performance."
It claims the GDA offers more than three times more throughput per controller than other deduplication products. Brian Biles, an EMC product management VP in its Backup Recovery Systems Division, said: "It's blistering fast and it's big enough for significant data centre backup consolidation." EMC will also have the GDA support similar integration with its own NetWorker backup product later this year.
No prices were revealed, but we do know that the GDA will be generally available before July. ®
Sponsored: Minds Mastering Machines - Call for papers now open