Get ready for the revolution: internet TVs
Connect the set
Sony
Sony's internet sets use the Applicast moniker, though this is changing to Internet Video on the upcoming 2010 models. I tested a Bravia W5500 series set, which has DLNA and Applicast, all accessed from the Home button on the remote, which takes you into Sony's PS3-derived XMB user interface.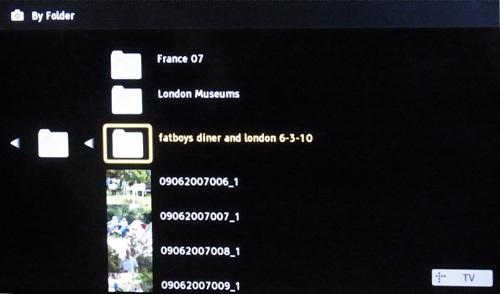 Sony's XMB UI can be used to access DLNA servers
A little like Samsung's system, Applicast displays a range of widgets, in this case at the side of the screen rather than along the bottom. There's a world clock, alarm clock, calculator, RSS reader and a picture frame – and that's pretty much it. You can, as the screenshot shows, add whatever RSS feeds you like, but the on screen keyboard is cumbersome to use – although it's actually a mobile phone layout, the screen display does its best to hide that fact, and just makes things more confusing.
Accessing networked media via the media bar is cumbersome and possibly the least intuitive of the DLNA sets. And, as with some other Sony products, the DLNA badge here really means just the bare minimum: the only video I could play were .VOB files, and I only had any luck with music when the NAS was set to transcode everything to PCM. It was good to see the album cover when listening, but that's not much consolation, frankly.
The lack of really useful Applicast content at the moment, and the limited format support for DLNA playback does make the Sony's connectivity something of a damp squib. The saving grace is the availability of iPlayer on Freesat models.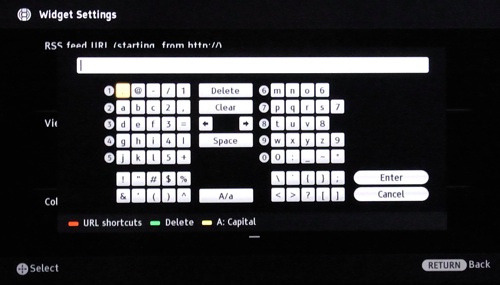 Searching uses a mobile phone-style keypad on the remote
Sony has promised more content, though, and recently rolled out Lovefilm video on demand, though this only works if you have a subscription. Even then, the selection of available videos is very much smaller than the number of downloads Lovefilm offers through its website.