Get ready for the revolution: internet TVs
Connect the set
Samsung
Samsung's connected sets are billed as Internet @TV, though, despite the name, you don't actually have access to the whole internet. Instead, what you have is a Yahoo widget engine, with a selection of straightforward options like weather, news headlines, share prices and a handful of games. All of them are accessed by tapping a dedicated button on the remote.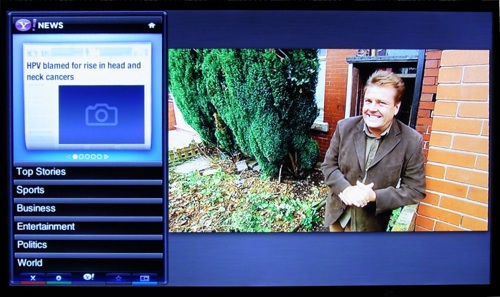 Samsung's Internet@TV
There are also Twitter and YouTube widgets, plus Teletext Holidays and Horoscopes - the Widget gallery boasts a total of 14 applets. Again, others are promised, including an iPlayer widget, but not all will be compatible with older sets; we tested on a 7000 series, which can work with an optional WiFi adaptor.
While Panasonic's YouTube app looks a little cramped, the Samsung one makes rather better use of the available screen space, but fails to translate that to ease of use. Its on-screen search keyboard is presented in alphabetical order and you have to move the cursor to each letter, then click – somewhat laborious. More annoying, there's no facility to save details of your YouTube account, so you can't pick up favourites that have been saved on a computer.
DLNA playback is accessed in a number of ways: you can choose it from a list of inputs, or from a dedicated button on the remote control. As well as DLNA servers, you can also play back content from a USB storage device; in fact, some features are accessible only from that, like choosing background music for a photo slide show or selecting the type of display. Using my Synology NAS, I wasn't able to select anything other than the default view for browsing media files. While it's certainly prettier than the Panasonic's folder navigation, it actually feels a bit clunkier to use, perhaps because you can't see all the names, in a folder, and have to scroll to each one to read it properly.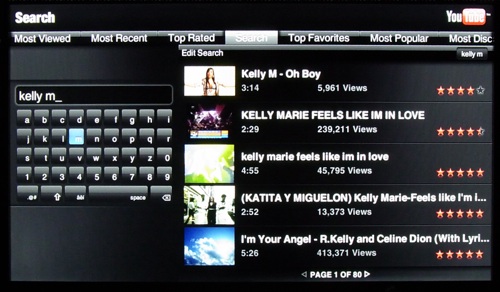 Searching YouTube would be easier with a better keyboard
That niggle aside, the format support is by far the best of the bunch, with MPEG 2, DivX, WMV, Xvid and even MKV – just about everything I threw at it played, including some Nasa HD clips, with the exception of DivX HD files and some QuickTime samples.
Audio is a little less well supported, with just MP3 listed, so I had to rely on the NAS to transcode AAC files, but that worked well enough.