Asus Home Server TS Mini
The ideal Nas box for newcomers?
Although it's a useful tool for one-time operations, Xtor Manager doesn't offer any sort of scheduling facility for backup and sync tasks. In fact, the backup manager built into the OS is rather better, allowing the scheduled backups of all networked computers, even going as far as to support Wake-on-Lan for sleeping machines. It is also possible to use it to back the server up to an external hard drive.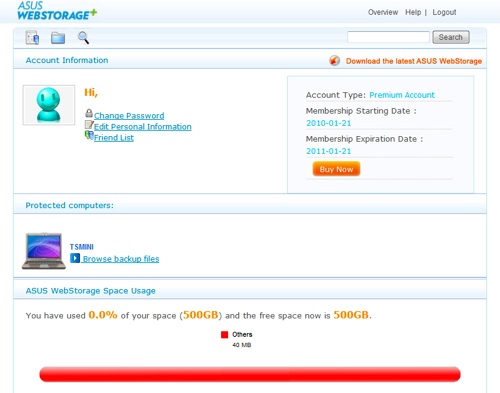 Asus' WebStorage adds 500GB of online space
A file manager is also provided for those who want to manage their external devices manually.
The WebStorage facility is operated by eCareme Technologies and isn't exclusive to Asus. The TS Mini comes with a one-year subscription to the service, and if you want to continue using WebStorage you'll have to shell out £21.29 for another year's usage.
This assumes that you subscribe to the 500GB, "unlimited" option. Less storage space is cheaper with the 30GB subscription costing £14.69, 20GB is £10.99, and a measly 10GB can be yours for only £7.39 per year.
While WebStorage is useful for maintaining copies of documents and other miscellaneous small files, until ISPs begin to offer home broadband with comparable upload and download speeds the cost of the "unlimited" subscription is unlikely to be justifiable in our eyes due to the huge amount of time required to update such large quantities of data. At this moment in time 10GB is generally sufficient to archive enough photos and documents for most people.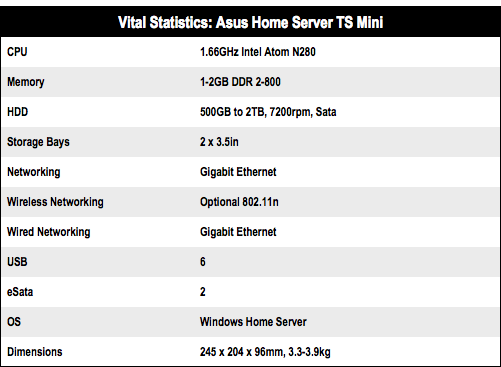 Sponsored: Minds Mastering Machines - Call for papers now open