IBM raids Oracle-Sun hardware channel
$500m in financing to peddle Blue gear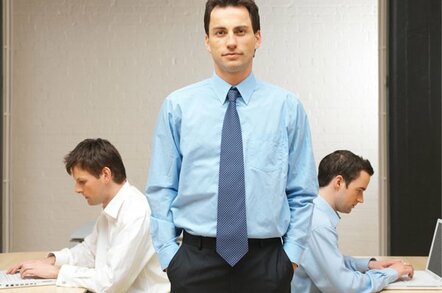 IBM has been chasing customers using Sun Microsystems' Sparc-based servers for more than a decade. Now that Sun is part of the much-stronger Oracle collective, Big Blue is trying a different tactic - going after the channel partners who distribute Sun systems.
To get Sun Oracle resellers interested in switching to peddling servers and storage with the IBM label on them, IBM's Global Financing unit is ponying up $500m in financing to help them get machines in stock and to cover leases of the IBM gear at their respective customers.
The financing was made available in conjunction with the rollout yesterday of a wider lineup of Smart Analytic Systems and the debut of the PureScale Application System. The former is now a series of clusters based on mainframe, Power and x64 iron to do data warehousing and analytics, and the latter is a cluster of Power 770 midrange boxes running AIX and DB2 to host online transaction processing workloads.
Both machines are aimed at Oracle's and Sun's Exadata V2 data warehousing and OLTP appliance, which the two companies launched last September while Oracle was still negotiating its $7.4bn acquisition of Sun with European antitrust regulators. Oracle says that the Exadata V2 appliance can do both data warehousing and OLTP workloads, while IBM says the two workloads are different and require different software stacks.
IBM also says that its PureScale extensions to DB2, and the tight coupling of memory used in the Power Systems nodes through InfiniBand's Remote Direct Memory Access (RDMA) feature allows PureScale setups to scale linearly and much further than Oracle's own Real Application Clusters can for OLTP workloads.
IBM is not restricting Sun resellers to selling these two new product lines, of course, and is opening up the financing to "credit qualified" Sun business partners who want to sell any IBM systems and storage. IBM says that the financing it provides to resellers through Global Financing, where IBM basically loans resellers the money they need to buy inventory at low interest rates, helps resellers maintain their working capital, keep a healthy balance sheet, and minimize risk, and adds that Oracle and Sun do not offer such financing to resellers.
To date, IBM says more than a hundred Sun business partners have either grown or started a reseller arrangement with IBM because of this financing.
It is not clear how many hardware resellers IBM and the former Sun have, and how many of these have relationships with both companies. The two big master resellers in the server arena, Arrow Electronics and Avnet, who buy gear directly from server makers and then redistribute it downstream to thousands of resellers who actually interact with customers, both distribute IBM and Sun gear, as well as many other brands.
Arrow's Enterprise Computing Solutions group has over 18,000 value-added resellers globally, while Avnet's Technology Solutions Group has about 4,000 reseller partners. While it is not clear how many of these are Sun or IBM resellers, what is true is that a reseller is allied to either Arrow or Avnet and cannot play the two against each other.
It's a fair guess that several hundred key resellers account for the vast amount of sales of IBM and Sun server gear, with the rest doing dozens to hundreds of deals per year and making a living from it.
At press time, IBM was unable to provide stats on the number of resellers it has for its own iron and how many Sun resellers it was targeting with the financing offer. ®
Sponsored: Minds Mastering Machines - Call for papers now open