Friends of Ubuntu join hands for cloud watcher
Eye on Koalas eating Eucalyptus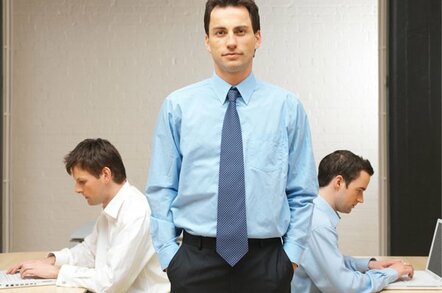 Ubuntu friends GroundWork Open Source and Eucalyptus have unveiled a new tool for managing and monitoring virtual servers and software that span Amazon's Elastic Compute Cloud and similar IT fluffiness floating inside your own data center.
Eucalyptus offers an open-source platform for mimicking the Amazon EC2 setup behind your firewall, serving up on-demand access to scalable compute resources, and GroundWork is on the verge of beta testing a version of its IT management and monitoring package that handles applications running atop Eucalyptus, Amazon EC2, or traditional un-cloudy data center resources.
The new tool is known as GroundWork Monitor Enterprise Cloud, and the limited beta program is now accepting applicants.
GroundWork says the tool will manage and monitor servers - both real and virtual - as well as software running atop those servers. This includes custom applications, databases such as MySQL, Oracle, and IBM's DB2, middleware such as Oracle's WebLogic, IBM's Websphere, and Tomcat, along with Hadoop - the open source distributed data crunching platform. According to the company, you can monitor the performance and availability of individual services and applications via graphical reports generated from "real-time" data. The GroundWork platform is designed as alternative to HP OpenView, IBM Tivoli, and CA Unicenter.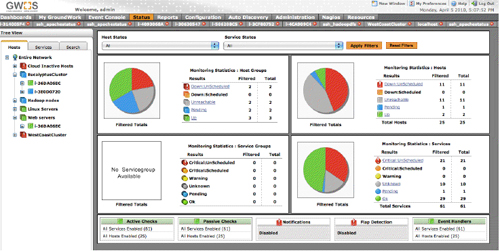 Monitoring from the GroundWork up
GroundWork chief executive Peter Jackson tells The Reg the company has been offering tools for monitoring applications on EC2 since last year and it has now extended these tools to Eucalyptus, which is based on the Amazon APIs.
Eucalyptus co-founder and chief financial officer Woody Rollins says the company has no plans to bundle the GroundWork Monitor with its platform - at least not yet - but "improvements in install and configuration specific to Eucalyptus clouds are in the works."
In other words, the two companies are making it easier to install the tool atop the virtual infrastructure provided by Eucalyptus.
Naturally, you can also run it on Amazon EC2 or on a server that actually exists.
GroundWork sells its current management tool, GroundWork Monitor Enterprise, alongside Ubuntu 9.10, billing the pair as a virtual appliance. Meanwhile, Eucalyptus is already included with the open source operating system as the Ubuntu Enterprise Cloud. That's why Mark Shuttleworth calls it Karmic Koala.
Like EC2 and sister Amazon Web Services, Eucalyptus provides on-demand access to scalable compute and storage resources. But whereas EC2, Simple Storage Service (S3), and Elastic Block Store (EBS) run in Amazon's sky-high data centers, serving world+dog, Eucalyptus is designed for private use. NASA's Ames research center is using Eucalyptus to build its Nebula infrastructure cloud, which will be used to house applications for various federal agencies.
Late last month, Cloudkick, announced that its monitoring tool can be used to oversee internal data center resources as well as infrastructure cloud service such as Amazon EC2, Rackspace Cloud Servers, and GoGrid. But unlike GroundWork, this runs as a web service and focuses on servers as opposed to individual applications. ®
Sponsored: Minds Mastering Machines - Call for papers now open