Crucial RealSSD C300 256GB Sata 3 SSD
Solid state of things to come?
I tested the C300 on an Intel DH55TC motherboard with H55 chipset using a quad-core 3.33GHz Core i5 661 along with, 4GB Kingston DDR3 RAM, a Radeon HD 5450 graphics card and 64-bit Windows 7 Professional loaded on a 160GB Intel X25-M SSD.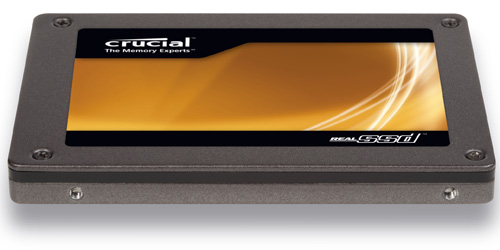 Even Sata 2 systems see a performance boost with this drive
For comparison purposes I used the 256GB Crucial CT256M225 SSD, which is a Sata 2.0 drive with claimed figures that are lower than the RealSSD C300 with a read speed of 250MB/s and a write speed of 200MB/s. Once I had baseline figures for the CT256M225 I started testing the C300 with it connected to a native Sata 2.0 port on the Intel ICH10R controller. The new drive performed well and outstripped the CT256M225 across the board.
The next step was to instal the HighPoint Sata 3.0 controller card with driver version v1.0.0.1020 that came on the CD. This threw up some extraordinary results. In HD Tach and CrystalDiskMark the Crucial C300 slowed by a considerable amount and the time taken to copy 2GB of files within the drive slowed from 22.2 seconds to 30.8 seconds. On the other hand the Iometer read IOPS test made a massive leap forward from 7,388 to 28,476.
This was a curious result, so I installed the Marvell v1.0.0.1034 drivers that were supplied by Crucial and ran the tests again. Once more, the test results dropped across the board, although this time it was a slight change; however the Iometer write IOPS test shot forward from 3,125 to 7,622.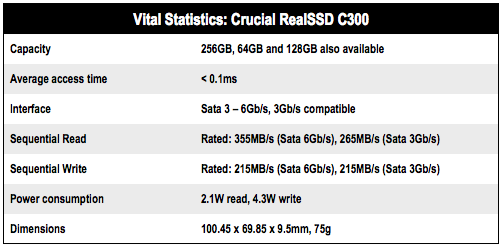 Sponsored: Minds Mastering Machines - Call for papers now open