Crucial RealSSD C300 256GB Sata 3 SSD
Solid state of things to come?
Review The 256GB Crucial RealSSD C300 breaks new ground, as it is the first SSD to use a Sata 3.0 interface with its theoretical connection speed of 6GB/second. Alas, the use of Sata 3.0 interface on a conventional hard drive wasn't so convincing, as revealed in Reg Hardware's Seagate Barracuda XT review. In closing that piece, the thought hung in the air of how a solid State Drive with a Sata 3.0 interface would perform. Now, that time has come.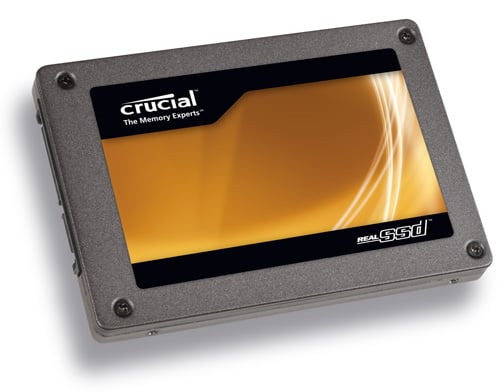 Pulling a fast one? Crucial's RealSSD C300
The cache chip and 16 MLC NAND chips inside the C300 are made by Micron, Crucial's parent company, while Marvell supplies the 88SS9174-BJP2 controller chip. Naturally, you require a Sata 3.0 port to get the full effect of the Sata 3.0 drive.
The C300 was supplied with a HighPoint Rocket 620LF PCI Express 2.0 x1 card that uses a Marvell SE9128 chip to provide two Sata 3.0 ports. Apparently, the Marvell 88SS9174-BJP2 can control up to 16 flash chips. The number of chips used dictates the capacity of the drive and also affects the write speed performance.
The RealSSD C300 is listed in capacities of 64GB, 128GB and 256GB. The 64GB doesn't appear to be on sale yet, but all three models have a claimed read speed of 355MB/s. Write speeds vary with capacity: 70MB/s for the 64GB model, 140MB for 128GB and 215MB/s for the 256GB. As the 256GB drive contains 16 flash chips it is reasonable to speculate that the 128GB uses eight chips and the elusive 64GB model probably has four.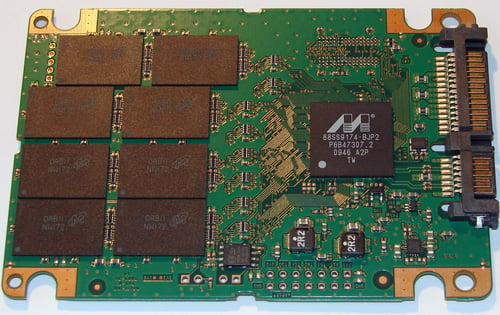 The 256GB SSD circuit board, the other side is also populated with eight chips
In appearance, the C300 looks understated with a case finished in gunmetal grey. The drive measures 9mm in thickness but if you undo four screws and remove a plastic spacer it slims the drive to 6.5mm so you should have no trouble installing the C300 in any laptop that you choose. It is more expensive than the Crucial M225 and similarly priced to both the 256GB Kingston SSDNow V+ and Patriot Torqx.
COMMENTS
Crucial SSD (plus priicing going the wrong way)
I have a Crucial CT256 SSD and it's far and away the best upgrade that I've ever made. Nothing has gone wrong so far and it is on a 5 year guarantee so I'm not too worried. However, what I would note is that the prices of these things is going the wrong way - I paid £350.39 including 15% VAT. I guess these new, higher prices are a result of the weak pound and the return of 17.5% VAT.
Also, yet again this obsession with data rates. The thing that makes the massive difference to the usability of my PC is the random access time for writes and especially reads on the system disk. Even if the fast SATA did increase peak throughput rates over my older drive, it would make precious little difference to 99% of use on the system disk. What takes the vast majority of the elapsed time on most system access is the time for the head to get to the bit of data (seek and rotational delay), not the time to move the actual data.
The reason SSDs are important is reduced latency - not peak data rates. If you are shifting around vast media files using sequential access then it's difficult to justify the cost of the SSD. Random read on an SSD can be 20-30 times faster - sequential throughput might be twice as fast for a price per GB perhaps 20 times higher. If high sequential throughput is your aim, then a RAID HDD setup will give you comparable throughput at a fraction of the cost.
£547...
(tries to control the Scot in him... fails...) for a F***ING hard drive????
Not just about speed
Personally it's not just the peformance improvement that would tempt me to put an SSD in my lappy, it's the power consumption drop, and the improvement in battery life. Has anyone done any useful testing around how much more runtime you might expect to gain replacing an HD with an SSD..?
Re: Crucial SSD
Completely agree with you. I have a CT300 256GB running on a MacBook which only supports 3Gb/s SATA and it still flies. The big difference is SSD vs. HD, and that is noticeable immediately. I do look forward to my next MacBook supporting 6Gb/s, but it is definitely worth it even without the faster interface.
Seems a bit hard
It's a fact of life that things sometimes go wrong in batches. I always regard the manufacturer's response to the problem as far more important than the fact that you ran into a problem, unless the problems are continuous for much longer than it ought to take to fix them.
It's been two years since anything I ordered from Cruicial failed, and two years ago their response was all one could ask for. No paperwork or paper-chase, my replacement RAM arrived the day after letting them know that my memory had gone bad.