Altec Lansing inMotion Compact
Give your tunes some welly outdoors
The cover is clamped to the base of the Compact by a trio of screws. You might think that means you can remove the cover, but you'll find Altec has adopted a belts and braces approach: it's glued the cover on too. Besides, taking the cover off only exposes a flaw in the Compact's parallelogram design: without the stand, it falls over backwards.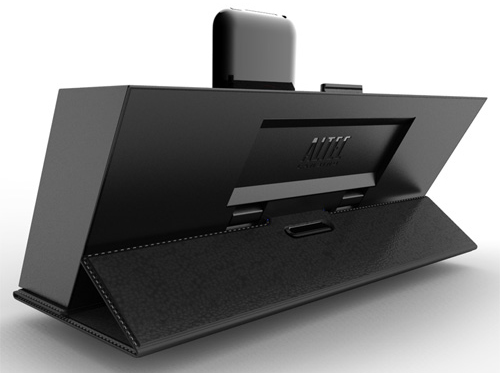 Can be battery powered for portability
Plugging in a set of four AAs - good for 24 hours' continual playback - into the battery compartment only serves to shift the speaker's centre of gravity further away from the front, but does at least mean you can listen to the Compact when you're out and about.
Altec's claim that the Compact folds "as small as a book" is stretching the point somewhat, but the speaker's shape does make it easy to carry, especially since there are not protuberances to get in the way. But the company's right to say the iMT320 works well with the iPhone, and it's good not to hear interference from the handset's cellular radio pumping out through the speaker.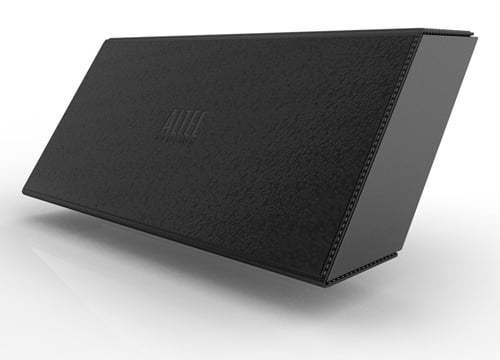 Compact when covered
'Pumping out' is also a bit of an exaggeration. The Compact is capable of a moderate volume, but it's not particularly room filling. The audio quality isn't bad, but its slightly boxy tones don't excite either. It would be unfair to simply label it as a way of making the iPhone's built-in speaker a bit louder, but that's really all it's for. It's more like a good portable radio than a ghetto blaster.
Verdict
You won't want to use the inMotion Compact as your main living room audio system, but for listening out loud in the kitchen or study - or while you're out on a picnic - this £60 speaker does the job in a thoroughly utilitarian way. ®
More Speaker Reviews...

B&W
Zeppelin Mini

Sonos
ZonePlayer
S5

Edifier
Luna 2

Altec Lansing
inMotion Max
Sponsored: Minds Mastering Machines - Call for papers now open

Altec Lansing inMotion Compact
A very portable, battery powered iPhone-compatible low-cost speaker unit.