Altec Lansing inMotion Compact
Give your tunes some welly outdoors
Review Speaker maker Altec Lansing has had a Compact member of its inMotion family on sale for some time, but it recently revamped the portable speaker to bring its electronics in line with the demands of Apple's 'Works with iPhone' certification.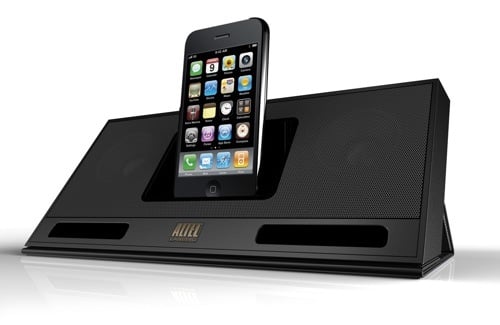 Altec Lansing's inMotion Compact: new angle
And if you're going to tinker with a product's insides, you may as well give outside a make-over too. So, out goes the old Compact's rounded rectangle look, replaced by a parallelogram cross-section designed to tilt the speaker back and provide a flat edge for it to stand on.
The racked-back design also allows Altec to dispense with the old Compact's pout-like dock unit. Here, it's in a recessed section of the speaker's face, ready to take the universal dock unit that came with your player - Altec doesn't supply any.
Since this is a speaker that Altec expects you'll want to carry around, the company has fitted the new Compact - aka the iMT320 - with a leather-look padded-but-rigid plastic cover the folds first up over the two front-facing 2in full-range drivers and the iPod space, and again to clip onto the speaker's top side, protecting the power and volume keys.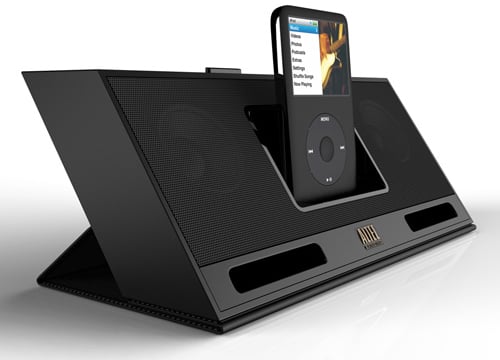 Won't stay upright without the stand
The canny part is that if you fold the cover the other way, it's positioned to provided extra stand-like support to the back of the speaker. The small flap you pull to release the cover here tucks into a slot to keep it all in place.

COMMENTS
More than moderate
I thought the sound was pretty good for a speaker system of this size and price - much louder than my old iM3, which has served me well for many years.
two front-facing 2in full-range drivers
Translates to - cheap and nasty speakers.... as mentioned later on in the review
Legs!
"Besides, taking the cover off only exposes a flaw in the Compact's parallelogram design: without the stand, it falls over backwards."
Bloody hell. I've just realised. If you take the legs off a human, they fall over too. That God bloke, what a crap designer. Where's the intelligence now!