iPad CPU yields up (some) secrets to x-ray scan
Inside the A4
And the best way of seeing what's inside the A4 processor that powers Apple's iPad is? Take the chip out and x-ray it, of course, and that's what gadget repair house iFixit and semiconductor specialist Chipworks have done.
Having pulled apart an iPad, iFixit passed the processor on to Chipworks, which then went to town on the CPU.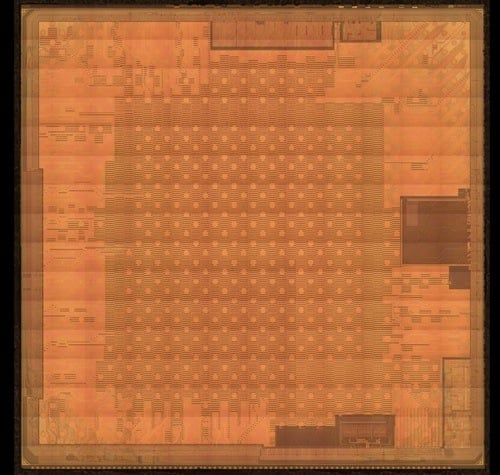 Inside the A4
Source: Chipworks
Its investigation found that the A4 packages contains three discrete layers: two slabs of Samsung Ram and the system-on-a-chip itself. Each memory layer contains 1Gb of SDRam - for 2Gb / 256MB in total.
The SoC's top-down view reveals that it's not a dual-core chip, suggesting to iFixit that it's based on ARM's Cortex A8 core, not the eagerly anticipated multi-core A9. That said, the A9 is available in a single-core form, so the jury has to remain out on this one until Chipworks spots a feature that is unique to either the A8 or the A9, or Apple comes clean.
What we can say is that, unlike iPhone CPUs, the A4 has no Samsung part number on the CPU die, suggesting this really is an Apple-designed baby, albeit it one constructed from off-the-shelf components.

Princess layer: side-on view of the A4
Source: Chipworks
While the x-ray analysis doesn't confirm which graphics engine is built into the A4, benchmarks show the core delivers the same performance numbers as the PowerVR SGX 535 built into the iPhone 3GS, iFixit said. ®
You can view iFixit's full teardown here. ®
Sponsored: Minds Mastering Machines - Call for papers now open