Panasonic Viera TX-P46G20 46in plasma TV
HD Freeview and HD Freesat set, anyone?
In some respects you get too many adjustment options. Not only is there the usual selection of viewing modes (Dynamic, Normal, Cinema, Game), there are pre-set THX (for THX-certified movies), photo and Professional modes, which allow advanced setting adjustments including individual gamma levels. Frankly, what is the point?

Easy access to common interfacing options from the side
It certainly pays to try the different set modes with each source but it's a shame the remote doesn't offer quick access to some of them. As it is, you have to work through several menus and even then the screen is half-filled with the Picture Mode menu screen. The P46G20 offers better brightness control than some plasmas, good news if you have a bright room, but driving the brightness hard can crank the power consumption up to 300W.
Panasonic claims the average power consumption is a more acceptable 173W and the standby figure is a commendable 0.4W, although the price for being so green means a brief wait of a couple of seconds for the set to power up after you switch on. A bit like using long life light bulbs, you just have to learn to be patient for the sake of Mother Earth.
Overall the set does a fine job with broadcast TV. It's almost impossible to tell the difference between Freeview, Freesat and Sky when watching the hard-hitting Newsround on BBC1 in standard definition. Switching to Spirit Warriors on the BBC HD channel and a few differences emerge. Sky HD has superior skin detail and sound, just edging out Freesat, with Freeview still a worthy third and preferable to standard def. A pity then that Sky Movies HD lose their cinematic look.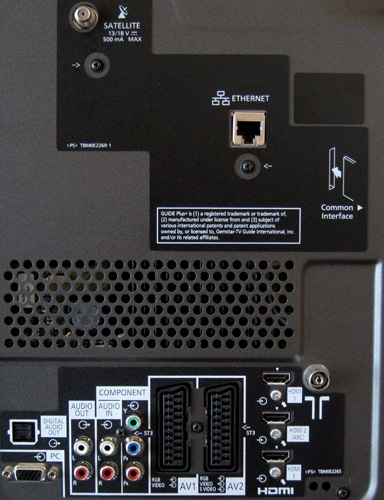 Connectivity to suit just about any domestic AV scenario
The screen's forté is with sport in HD and Blu-ray movies (using 1080p/24). In both cases the images are supremely well rendered. Colours are more natural than most LCD screens ever seem to muster and the absence of noise and the lack of judder on camera pans and fast moving objects are all excellent. The biggest weaknesses are a shortfall in detail in darker areas and black levels, whilst superior to LCD are still not as good as some LED-lit screens. At least there's no drop-off in colour depth when viewed from the side.
Sponsored: Minds Mastering Machines - Call for papers now open