Panasonic Viera TX-P46G20 46in plasma TV
HD Freeview and HD Freesat set, anyone?
Definitely not a peripheral benefit is the set's 600Hz 'processing'. However, like the term Infinite Black – even a school boy should know that the claimed ratio of 5,000,000:1, although impressive, is some way short of infinity – the 600Hz figure is slightly misleading since the screen doesn't actually refresh itself 600 times a second. By adding 12 sub-fields to each of the 50 frames displayed per second you get a total of 600 'images' per second. The result is a smoother and more stable picture.If you want to muse on this technique further, Panasonic has a some more info here.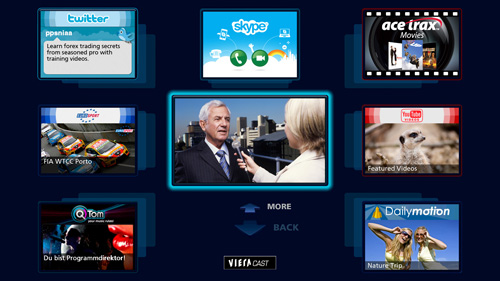 Additions to VieraCast services are appearing gradually
In practice, this claim certainly holds up well. Most sources especially DVB and Freesat do indeed have a pleasing fluidity to them, although there is an annoying side effect. Filmic footage can end up looking too realistic, rather like video, so that sometimes you almost feel like you're watching an on-set documentary. The filmic effect of video is created by the removal of fields in post production. This is effectively reversed by higher refresh rates which replicate and insert extra fields or sub-frames. The unwanted extension of this is that genuine movies end up looking like video rather than film.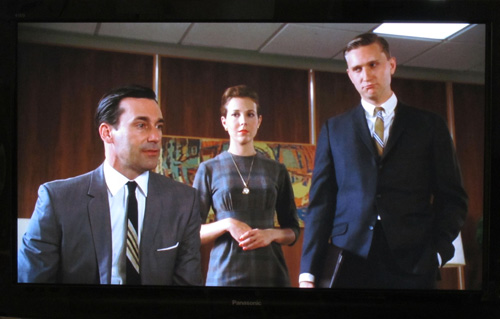 Not all content suits the 600Hz processing
Take Mad Men on BBC HD, recorded on a Sky+ HD box. Scenes of Betty Draper are so clear they almost feel three dimensional. Who could ask for more, you might think, than Betty seemingly coming from her kitchen through the screen into your lounge? But the filmic look which has been added by the director to video footage has been lost and when you loose the filmic look you loose the magic. This affect applied to older films especially can be most disconcerting.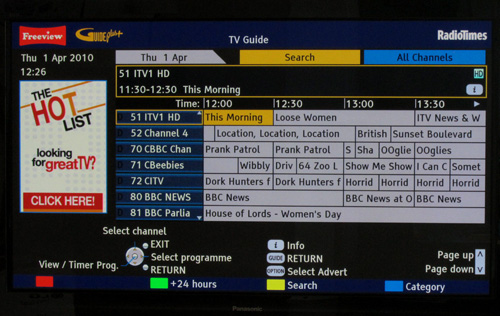 The EPG has various prompts so you don't get lost in it
The other side-effect of the judder-reducing processing is the generation of haloing around moving objects. It's not as severe as some LED backlit systems but it does happen from time to time. You can switch off Intelligent Frame Creation by delving into the set-up menu, which removes the problem, albeit at the cost of introducing flicker and judder. Shame that the IFC on/off control isn't in the picture settings, instead of buried away elsewhere under "Other Settings".