My biggest problem with God of War III, maybe because I'm a woman, is I don't really like being Kratos. Yes, we all know his main motivation is a massive revenge fest, and the son must kill the father, blah, blah, blah, but to become completely immersed in a game it would be nice to believe you had some higher purpose.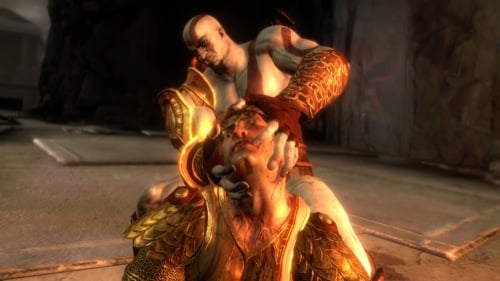 Is there not more to life, O Zeus, than squeezing heads 'til they burst?
At least you could be on a mission to free a city from the tyranny of the Gods or something like that. Instead, your entire motivation seems to be killing a lot, kicking dogs and taking part in mini sex games. Where's the empathy, or am I missing the point? The reading of hackneyed phrases from books on plinths seems contrived and pointless, hence the 90 per cent.
Verdict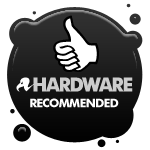 It's fair to say that God of War III has taken the formula to its most advanced point so far. It is at its most basic level a game based on visceral bloodshed, with some quick time events and puzzles thrown in. If you are looking for some kind of deep, meaningful gaming epiphany you'll be a little disappointed. However, I had a lot of fun playing it, and the epic visuals more than matched my expectations.
Should you buy this game? Assuming you want something mindlessly violent with breathtaking visuals, and you aren't worried about how it addresses the underlying meaning of existence, then yes. If this is the final instalment of the God of War series - wait till the end of the credits - it is determined to go out with an epic bang. It is also an amazing showcase for your PS3, and sets a shining visual example for other gaming studios to strive for.
Some recent reghardware games reviews…

Splinter Cell:
Conviction
Dead 2 Rights:
Retribution
Heavy Rain
Bioshock 2

God of War III
Seek bloody vengeance against the Gods of Olympus. Available on PS3 only.
COMMENTS
Re: Not that I'm complaining....
It started today, and there'll be a lot more coming.
Why not game reviews...?
What are you doing here, If you don't play video games?
If RH want to provide me with a game review, I'll consume and comment.
Personally think their actual 'Hardware' reviews are pretty good.
Gaming is hugely popular and I bet I'm not the only reader who owns a console?
Even if you only did buy the PS3 for the Blu-ray (You know who you are).
More game reviews and for those who don't play, please don't comment.
Gamers only please as I'm sure there are a few of us....
The point
"your entire motivation seems to be killing a lot, kicking dogs and taking part in mini sex games. Where's the empathy, or am I missing the point?"
Imagine you're a 14-year-old boy playing this game.
PS3 onlies...
I think there was a long time where games were made for one and ported to the other and therefore were constrained by the lowest common denominator but Sony have finally lost enough money giving PS3s away that it's becoming economically viable to develop games that take advantage of its superior (flame suit on) abilities.
I love it
I bought a PS3 just for this game and I think it was well worth it but I don't see any games on the horizon that tickle my fancy and that aren't going to be released on the 360 aswell.