Electronic Bodyguards bureau sets up shop in Switzerland
Data protection A-team suits up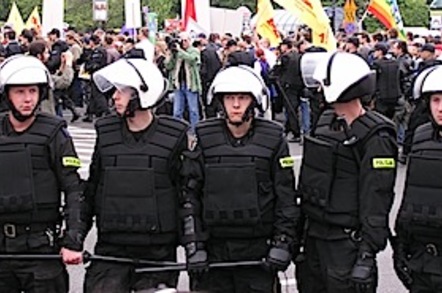 Burly bodyguards, however well armed and trained, are no longer enough to protect businesspeople on the move.
Electronic threats to their privacy and security and the risk of industrial espionage can also cause problems for VIPs and businesspeople. Peter Houppermans, an experienced security consultant who helped build the UK's Government Secure Intranet before working in banking security, aims to plug this gap with a new venture, dubbed Electronic Bodyguards.
The Electronic Bodyguards Group brings together several companies who are all experts in their specific niche, but too small to market themselves. All offer trust, discretion and client privacy.
The group is marketing its services to companies, but also executives and VIPs who need to safeguard their electronic as well as physical security when they travel. The group is focusing at the top end of the market for corporate and personal security.
The combination of competences in the group brings a number of interesting services. One service is a two-week find-and-fix security programme for VIPs who travel frequently, marketed to VIPs and private banking clients. The premise is that physical security is covered by insurance policies and bodyguards but doesn't address safety and reputation, problems that result from data theft or hacking, still less government intrusion and cyber espionage. eBodyguards aims to plug this gap.
"VIPs typically walk into a less secure setup as soon as they leave their office," Houppermans explained. "Bodyguards only look at perimeter, but the guy in the carpark with a laptop can pose a threat as can a lost BlackBerry that cannot be remotely killed."
Electronic Bodyguards Group (EBG) is marketing itself on the promise of a one-stop service with discretion as an integrated part of the offering. Houppermans said: "Why buy a consultant at £1,500/day if you can get the best in their field at £1,000?"
The organisation can handle jobs ranging from personnel screening to breach recovery as well as certified education and full business continuity planning. The group is even capable of handling covert ops that might normally be considered the work of private investigators. A recent case tackled by eBodyguards involved work on preventing data theft, where it combined software expertise with emergency management measures and surveillance to catch data thieves in the act.
The group is based in Switzerland and promises client confidentiality and privacy comparable to that of numbered Swiss bank accounts. Houppermans is essentially acting as an agent for ex-law enforcement agents and experienced security staff in a network of contacts he has built up over many years.
"In security there are various networks and groups, I am part of a few of them," Houppermans explained. "That means I can cross check someone quickly.
"The deal is collaborative marketing with a carefully selected set of people, all of whom I have to know personally before they become part of the group. I act as the client interface because I can quickly see which combination would be the perfect fit for the work, which also comes in handy to handle emergencies."
Houppermans prides himself in being able to pull together an A-Team of experts with different skills, all with at least 10 years relevant experience.
"I try to avoid too much capability conflicts, but I have a company of ex-police people who do very good anti-fraud and physical surveillance, a one group of white hat hackers, a business continuity firm who work for casinos and even Israeli banks. If a company needs a combination of skills, I generally coordinate the work myself."
So far, three firms are licensed to carry the Electronic Bodyguards Group brand, but Houppermans is already in discussion with others. Currently, the three licensed partners are Risk Control RCC, Dreamlab Technologies AG and Coprin AG.
Houppermans' own technical contribution to the mix is a secure email system that "isn't just technically secure (that was the easy bit) but also legally secure because I know how RIPA [the UK's main wiretapping regulation law] can be abused by insiders," he explained.
"By placing the email platform in Switzerland I ensure proper law enforcement process is followed," he added. ®
Bootnote
Carlos Solari, former head of network security at the White House and vice president of security solutions for Alcatel-Lucent's Bell Labs, was once described by his firm as a former "US Presidential data bodyguard". We've never heard the electronic bodyguard concept discussed by anyone in any detail before speaking to Houppermans though.
Sponsored: Minds Mastering Machines - Call for papers now open