Verizon and IBM join forces for private cloud backup
Managed Data Vault is go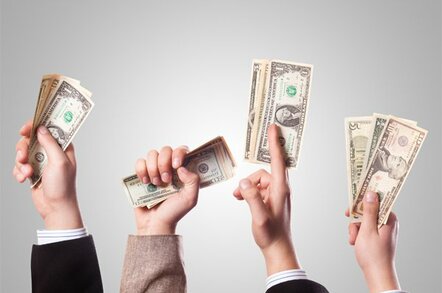 Verizon and IBM are partnering to offer a private networked (cloud) backup service to enterprise customers.
The duo's offering is called Managed Data Vault. Customers backup data from an active site and send it across Verizon network links to a remote IBM data centre equipped with "backup infrastructure and management capabilities". Verizon is putting a suite of network offerings into the deal. The two offer no further product details beyond market-speak about Verizon's "secure high-speed private network" and "off-site data protection at on-site speeds".
An IDC person says that the offering involves management in the cloud. Lots of services are also involved and both companies will sell Managed Data Vault, but initially only in the New York metropolitan area, suggesting that the service is still in its experimental stage.
The target customers are global enterprises with data footprints of 15TB to 150TB and beyond. Specific verticals mentioned are the financial, retail and health care services markets.
IBM's Business Continuity and Resiliency Services VP, Don DeMarco, said: "Managed Data Vault offers a broad array of enterprise data protection, not just for files, but for very large data stores and transactional data base content ... [It] is a single, secure [offering] to help clients retrieve a file, restore a device, or recover from a serious outage emergency."
Verizon already offers a remote backup service of its own. The combined offering is set to compete with services like those of Iron Mountain trucking tapes to an off-site vault.
Iron Mountain is building out its cloud storage offerings - it has its own networked file vaulting service and is buying Mimosa to expand its networked data storage services portfolio.
IBM is also expanding its cloud storage capabilities, having bought Arsenal Digital for its cloud backup and recovery technology in 2007. In 2008 we learned Big Blue was spending $300m on 13 data centres in ten countries to store customers' backups in data vaults.
The Verizon partnership says that Big Blue needs strong networking expertise to get data into its centres. We can expect a raft of networked - sorry, we should say cloud but keep forgetting - backup and recovery services with options like replication and maybe even tape vaulting for archival data.
There are no details provided of how you can get LAN speed across WAN data distances but Verizon does have a suite of WAN optimisation services. Neither company mentioned the idea of deduplicating data before it was sent across the wire, thus reducing network bandwidth needs. Nor was the idea of local data caching or pricing. As in any cloud one's vision was restricted. ®
Sponsored: Minds Mastering Machines - Call for papers now open