Creative Vado HD
Singapore-style point and shoot camcorder
We were somewhat surprised to hear that still image capture is a new feature in this model. Creative told us that previous Vados could only capture video, so you had to copy individual frames from video clips in order to create still photos. Another new feature is a motion-detection option that automatically starts to capture video if the Vado detects continuous motion for more than three seconds – which will no doubt give rise to a multitude of embarrassing YouTube videos shot on Vados hidden in college dorms.
We wouldn't expect a compact device like this to match the quality of a more expensive HD camcorder, but the video clips we shot were sharp and detailed, and the Vado HD also coped well with the poor light on the grey and cloudy day when we conducted our tests. The autofocus works well and allows you to just point-and-shoot quickly when you want to capture the moment.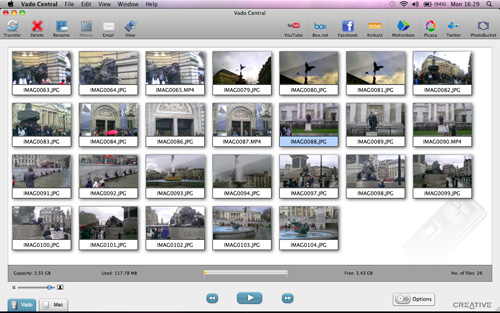 Vado Central software included for Mac and PC
However, you're not given much control over the camcorder settings. There's a manual exposure control, a 2x digital zoom, and you can switch the capture resolution between VGA, 720p HD, or an 'enhanced' HD mode that uses a higher bit rate, but that's about it. We wouldn't have minded a macro option, as the Vado HD did seem to struggle with the focus on some of the close-up photos that we shot.
The rechargeable – and replaceable – battery pack lasts for about two hours, which is also the maximum length of video that you can capture using the standard 720p mode. However, the enhanced mode doubles the bit rate for video capture, producing a noticeable increase in sharpness but halving the recording time to one hour. YouTube aficionados who are happy to snap away at VGA resolution can cram four hours of video into the Vado's 4GB memory.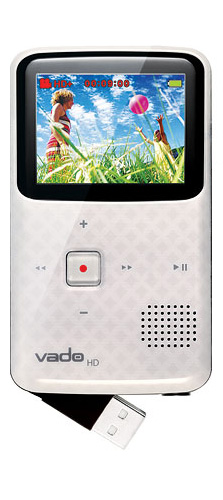 Easy to use, takes stills too, what's not to like?
Once you've finished shooting you can use Creative's Vado Central software to preview your videos and photos, transfer them onto your computer, and upload to sites such as YouTube and FaceBook. The camcorder stores video clips in MP4 format, and the Vado Central software also includes the relevant codecs to ensure that PC users don't have any problems with playback. And, yes, the Vado software runs on Macs too.
Verdict
Admittedly, the Vado HD is something of a 'me too' product with few features that are likely to worry any of its pocket camcorder rivals – although the motion detection option does have possibilities. Even so, it works well as a point-and-shoot device that allows you to quickly capture decent quality photos and video with minimal effort. ®
More Camcorder Reviews...

Sony Bloggie
MHS-PM5K
Samsung
HMX-U10
Toshiba
Camileo S20

Pure Flip
Mino HD
Sponsored: Minds Mastering Machines - Call for papers now open

Creative Vado HD
Easy to use HD camcorder with motion detection recording.