The Symbian browser is less impressive, with its ugly menu bar on the right. The onboard accelerometer automatically flips the screen to landscape mode but, while you can tap to zoom or use the scroll bar, the zoom function seemed a little eccentric and wasn't available with all pages. It didn't always render pages as we'd expect to see them either, but it does have multi-page views, magnifying window, word search, Flash video support and the option to save log-in details.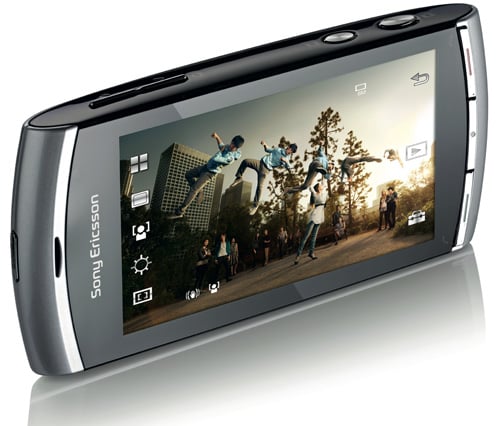 A decent range of productivity apps, plus all the usual social networking options
There's a BBC iPlayer app on-board that worked well with our Wi-Fi connection and offered the Beeb's recent glories in slightly fuzzy, but perfectly acceptable resolution. There's also a YouTube app too. The screen's stretched proportions mean you can view movies in widescreen 16:9 format, as the director intended – though he/she probably imagined it would be a bit bigger. In any case, movies look terrific on the sharp screen, but it will only show MP4 format, no DivX or XviD support – boo!
If the video resolution doesn't match the screen's widescreen dimensions, there's an option to stretch it, although you lose some resolution, but it still looks better than cramped between black bars. Playback is simple stop or go though – there's no slo-mo or screenshot capability.
The Walkman music player does a good job of organising and playing back your MP3, AAC and WMA tracks with decent sound through the supplied headphones too. There's none of the fancy listing features you got with the dedicated Walkman phones of yore, and we'd have liked a graphic equaliser included too. There's also an FM radio with 20 preset stations but no RDS, though it does have SE's rather lovely TrackID service for identifying mystery tunes.
There's a negligible 75MB of memory on board, but fortunately it comes with an 8GB micro SD card. It's inserted under the cover, but you don't have to remove the battery to get to it and the Vivaz can accept up to 16GB. For social networking, the Twitter app we touched on previously is decent enough, if a little basic – it offers a page view of all the recent Tweets you've been following and a box to load up your own instant thoughts, though there are no options for grouping or searching. There's a Facebook app on board too, which is fine, though it won't let you merge with your contacts or push updates to you.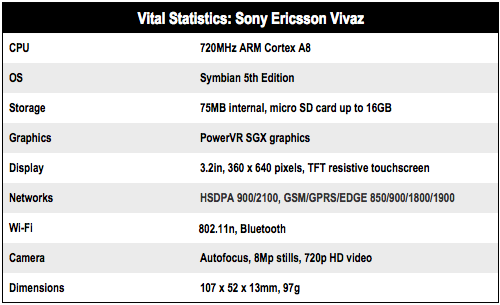 COMMENTS
Looks alright
But it's clearly no 6310i
Hi
sorry to sound like such a nood but when i record hd video on the sony erikson viviaz how can I watch it on my hd tv? will I need to burn it too blueray or hd dvd
hi
sorry for being a noob but I was just wondering if I record a video on my sony erikson viviaz in HD and I then want to watch it on my HD tv or my HD computer screen will I need to burn it to bluray or HD dvd
Okay...
Okay, so the new GUI is being built on the Qt cross-platform application and UI framework if you want precision. I'm sure anyone reading would know what was meant.
So you prefer S60v3. Wow, each to their own I guess. That came in 2005 no? In the mobile world that is ancient. Of course you haven't mention which feature pack of S60v3 you mean, but they all look and feel the same anyway I guess.
Of course S60v5 is "newer", but it's built on the same old stuff and has the same look and feel and weird quirks.
At least we've had no smug iPhone GUI replies to this.
Anyway, onwards and upwards hopefully/eventually.
Qt
Qt isn't an interface.
S60 is hardly ancient. I still prefer using my S60v3 phone to even Android. Android looks and runs like Windows 95.