Apple uncloaks deep details of its 11 iPad apps
Holy tablet is not giant iPhone
Mail, iPod, Videos, YouTube, and iTunes
The Mail app - as demoed in its Guided Tour, at least - appears to be a cut above the iPhone's bare-bones email app. Hold the iPad in landscape mode, and a list of your received mail appears to the left of the current message. Turn the iPad into portrait mode, and the message fills the display - but if you want to view your messages while in portrait mode, a pop-up message list is available.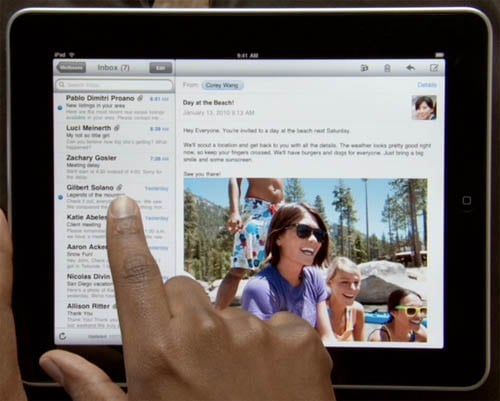 Unlike on the iPhone, the iPad lets you view both your email list and the current message
When deleting messages, selecting them for deletion pops them onto a pile so you can review them before finally trash-canning them. Searching for mail - including messages stored on the server - can be done in the app itself, another step up from the iPhone.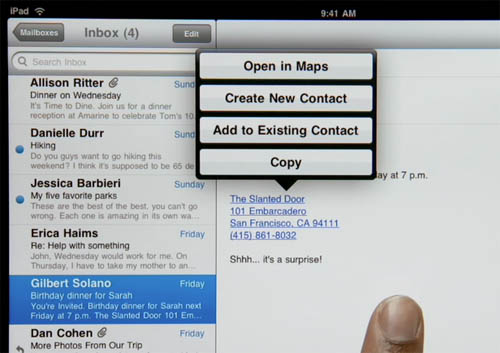 As on the iPhone, tapping and holding an address in Mail brings up a set of options
The iPad's iPod app does pretty much what you'd expect it to do: play music. It also, however, adds the "Genius Mixes" capability found in the Mac's iTunes but absent from the iPhone's iPod app. [See "Update," below]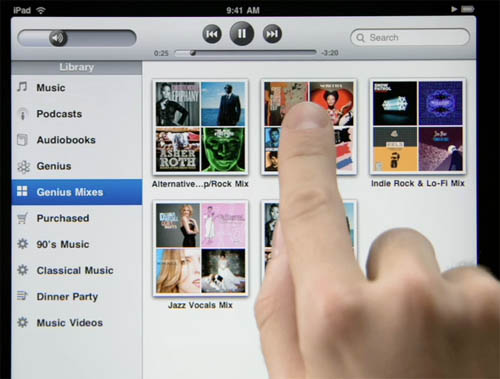 Genius Mixes create playlists based on genre, and are recreated anew each time you access them
Videos plays videos - no surprise - but it also takes advantage of the iPad's larger-than-iPhone display to show you more information about a movie than could fit on an iPhone's wee display - full movie descriptions, for example, and images for each chapter when viewing a chapter list.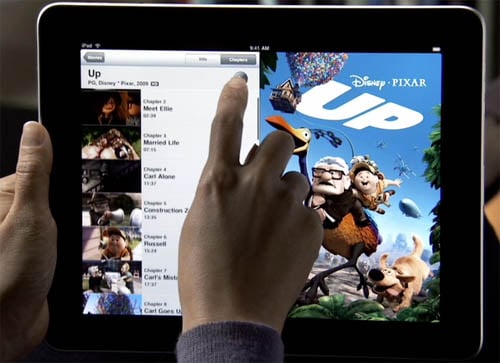 One nice touch in the Videos app is chapter headings with images
The YouTube app adds little to the iPhone version, although it does make access to such functions as rating and flagging more direct. As with the Videos app, YouTube takes advantage of the iPad's larger display to present more information simultaneously than can the iPhone. Also unlike the iPhone, the YouTube app allows you to view a video in portrait mode.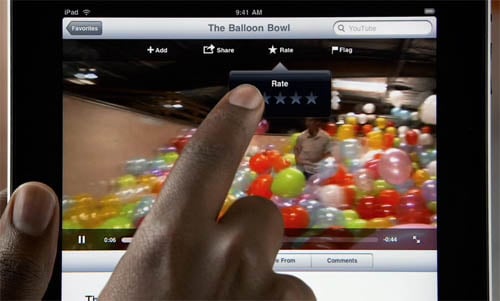 You can add a video to your Favorites, or share, rate, or flag it while viewing
When you buy an iPad, Apple hopes that purchase won't be the last it sees of your credit card - and that's what the iTunes app is for. The Guided Tour demo shows little that will surprise you, just a slick interface for previewing, buying, and wirelessly downloading music, movies (rentals also available), TV shows, podcasts, music videos and audiobooks.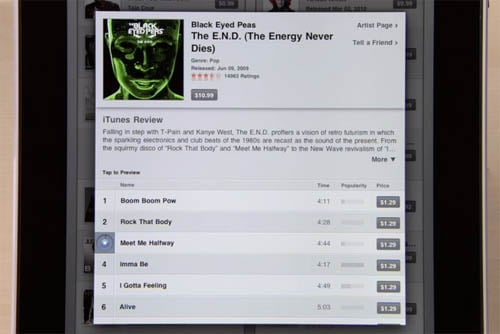 The iTunes app is where Apple hopes you'll spend a lot of your time - and your money
Taken together, the 11 Guided Tours demonstrate that the iPad isn't merely an over-sized iPhone. As presented - of course, in their best light by the crafty marketeers at Apple - the iPad apps take good advantage of the larger display and use it to make previously iPhone-only apps easier to use. More interestingly, Keynote, Pages, Numbers and iBooks are clearly worth at least a closer look once the long-awaited device ships this Saturday.
That is, if you can get your hands on one. ®
Update
Thanks to Reg reader David, we've learned that Genius Mixes are, indeed, available on the iPhone and iPod touch - not that accessing them is all that easy. We were unable to test this hidden feature, but here's how, according to Mac OS X Tips, Tricks, and More.
Sponsored: Minds Mastering Machines - Call for papers now open