Freetards storm Westminster
Shed Bloke is out and about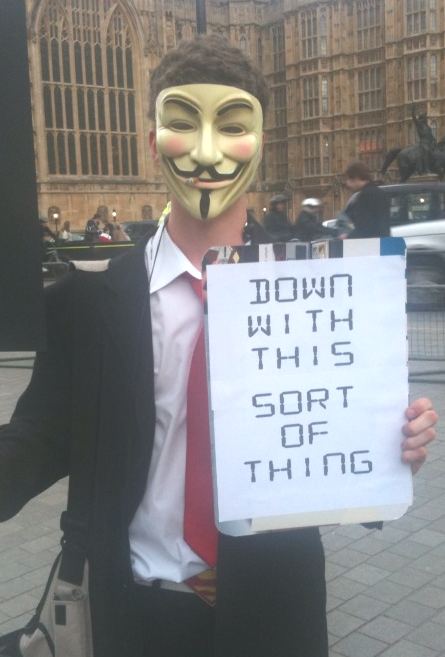 This man made his own excellent placard
If the ORG hadn't made the bone-headed decision to time the protest for Budget Day, I would bet this would have got in the papers. As it is, nada.
By the time an MP with a Northern accent (John Grogan, Lab., who is standing down) was handed a copper cone - not as expected, an electric megaphone - it was quite lively. The MP said the Bill should be debated in the Commons. A LibDem candidate was then handed the microphone, which was helpfully wiped down for her by ORG's Jim Killock.
Unfortunately you had to be within four feet of any of the speakers to hear what they were saying - they were drowned out by the sound of the rush hour traffic. Electricity really helps here, chaps, it amplifies the sound.
Or maybe it was a really sophisticated conceptual joke - like the blank placards - and I'm just being thick.
Cory Doctorow peeled off his black tape gag, and looked like he was in his element. It was Lenin rousing the proletariat in Finland Station Square. Or at least it probably was in his imagination. This is a chap with a need for self-dramatisation. He signed off with a line that tells me he hasn't ever seen Dave Spart's Alternative Voice.
"Tell your friends. It's our last chance for a free and open society going forward."
(I particularly liked the going forward.)
One music industry spy, noting the paunches and hairstyles, said "there are more ponytails here than in the music business!" It's a bit of a cliche now that at digital rights events you get a lot of people who look like Comic Book Store guy. But a few do. There were one or two females, and while they jeered the influence of corporate lobbyists, one wore her affections.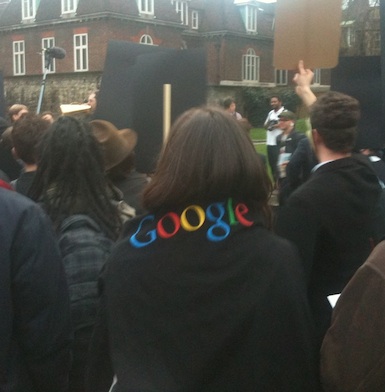 End major corporate lobbying!
(Unless it's Google)
A music writer friend of mine came along, and I asked him what he thought if all. He had a very politically incorrect answer - stop reading now if you're a sensitive soul.
"Disconnection would be the best thing to happen to some of these people," he told me. "They'd get out the house, meet girls, and go for a walk."
The bill seems destined for what's called "wash up". Some of the protesters might need one too. And after an hour of this malarkey - amongst people determined to pretend the world is ending - I needed a hose down, too.
To the pub we went. ®
Sponsored: Minds Mastering Machines - Call for papers now open